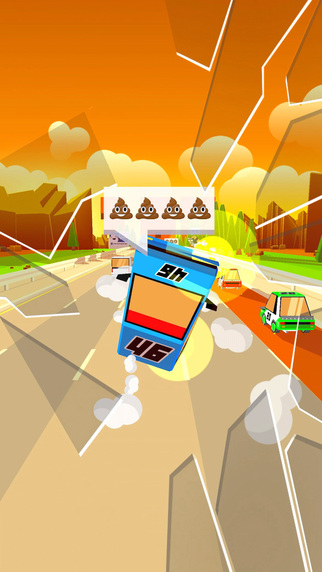 Why Dashy Crashy?
If you like your mobile games fast, then do I have an app for you. "Dashy Crashy," an endless runner from developer Dumpling Design, is a great amalgamation of the super fluid mechanics found in "Temple Run," and all the style, confidence and swagger that absolutely needed injecting into this tired old genre.
Gameplay
As previously mentioned, "Dashy Crashy" echoes "Temple Run," in that your character — this time, a car — is constantly moving forward along an endless stretch of road. You can swipe left or right to change into one of five lanes — in order to dodge other vehicles — and swipe up or down to get a speed boost or brake, respectively.
Whilst on the road, chaos will frequently ensue. Vehicles will indicate and move over into your lane, cars will pile up in huge crashes, and lightning fast lane-hoggers will whizz up from the rear.
Amidst all this, you'll be chasing a new high score — literally — a huge number displayed at the end of the road, just over the horizon. "Dashy Crashy" is fast, frantic and fun, the sheer amount of things occurring on screen almost masking how familiar and repetitive its core gameplay design is. But you'll be enjoying yourself too much to care.
Difficulty
Luckily, a perfect balance is struck between how far you get into your run, and how difficult the run gets.
To start with, it's a breeze, and I often punched the accelerator to rush to a reasonable score relatively quickly. Once you're past this point, a normal speed is advised, as the amount of cars and obstacles you'll encounter can get overwhelming. Thankfully, I never felt out of control.
The game is never unfair, and never overly harsh. If you swipe to avoid other vehicles, that's exactly what will happen — no lousy hit detection, no impossible odds, just progressive difficulty.
A lot of other endless runners feel the need to throw dozens of gameplay elements and mechanics at you right from the off, but "Dashy Crashy" builds things up slowly, making it feel all the more rewarding when you hit a great score.
Graphics & Sound
The visual and sound design in "Dashy Crashy" almost had me weak at the knees — it reminded me of a superb blend between anime, "Crash Team Racing" and most Nintendo games.
The Japanese-influenced emoticon bubbles that pop up on screen combined with the beautifully designed vehicles and smoke effects made every single play-session an aesthetically-charged feast.
The funky audio effects and hectic soundtrack complement the cartoony visuals as brilliantly as a bottle of beer complements a Saturday night. To some, it could come across as goofy, like trying to be odd in a desperate attempt to stand out from the crowd — but that's exactly what a familiar concept needs — a splash of style.
This game doesn't look, feel or sound like any other, and that makes the repetitive action all the more enjoyable.
Final Thoughts
A stale genre gets a breath of fresh air in "Dashy Crashy," a wonderfully designed endless runner that will definitely drive you to a good time. Let's just hope the developer doesn't also create a taxi service.
TESTED ON: IPHONE 6S, IOS 9.2.
DASHY CRASHY ON IOS REQUIRES IOS 8.0 OR LATER. COMPATIBLE WITH IPHONE, IPAD AND IPOD TOUCH.
[appbox appstore https://itunes.apple.com/us/app/dashy-crashy/id558094294?mt=8]