Disk Drill Pro is a Mac App developed by Cleverfiles. $89 may seem like a steep price for software if you've become accustomed to using freeware, but this wonderful program offers great peace of mind…and you can't put a price on that.
Disk Drill Pro was designed natively for Mac users, and offers users the ability to protect files in the event of accidental deletion. It also helps users to recover those files.
The interface is really simple to navigate, and there are a ton of knowledge base/wiki articles that can help you get the most out of the product. I also love that when you upgrade to the Pro version, Disk Drill Pro tells you what you "sponsored" at the company with your purchase. I love that kind of transparency!
I tested Disk Drill 1.8.207, and absolutely loved it. Within minutes, my existing files were protected. Their Guaranteed Recovery Protection is really cool: it works by acting as an extended Undo and by keeping invisible copies of deleted items.
You can use Disk Drill Pro to recover lost music on your iPod, lost image files from your camera (including large NEF files/Nikon RAW image files), and more.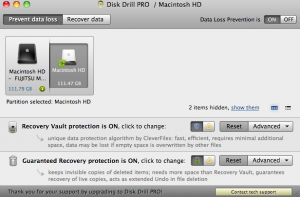 The company's upgrade policy is really generous. Every purchase of Disk Drill PRO, Expert or Enterprise includes all minor upgrades within one major version. It means that if you are purchasing Disk Drill 1.1, or 1.2, you will automatically get all minor upgrades for free (1.3, 1.4, 1.5.1, etc). Major upgrades can be purchased at a guaranteed discount of 50% (available to registered users only) and are totally optional.
I wasn't familiar with this Texas-based company before doing this review, but now I am a huge fan of their design style, powerful program, and ethical business practices. If you need do-it-yourself data recovery software for Mac OS X, this is a must buy!
It doesn't matter whether files were lost due to accidental deletion, Disk Utility errors, or data corruption: Disk Drill Pro has got your back, and I feel happier knowing I have it installed on my Mac. Plus, you can try the Basic version to scan your drives, and then pay for the Pro upgrade if you decide the program is right for you. Who doesn't love "try before you buy"?
SCORE: 9.5/10
Disk Drill Pro is compatible with Mac OS X 10.5+. You can try the basic app for free to see if it will recover your files, and then upgrade to Pro to get the full benefits of the program. This helpful video explains the simple process of upgrading from Basic to Pro.
[youtube width="500″ height="300″]BTdCPdMwKFw[/youtube]