DrivePop Cloud Storage is a premium cloud service that's great for individuals, families, or businesses. This online cloud portal is a dream to use, and gives you great peace of mind.
Boasting Military Grade AES-256 Encryption, this cloud service promises unlimited storage and unthrottled bandwidth. You can access files from the web, or by using an app on your iPhone, iPad, or Android device.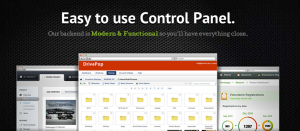 You can get a free trial for 14 days to see if you like it. After that period ends, you can extend your coverage with one of several plan options, ranging from $2.99/month to $9.99/month.
There's also a "sync" plan for getting all your devices on the same page, which costs $59.99/year. Purchase the DrivePop Sync service, and you will get a free license of FilePop HD Platinum, company's DVD/Blu-Ray Burning/Ripping software.
One thing that's really interesting about this service is the lifetime pricing option. Under this plan, you pay a one-time fee and get unlimited cloud backup for life, saving you hundreds of dollars.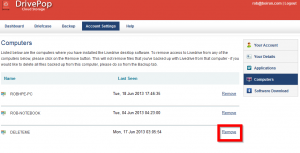 One security feature found in DrivePop's Livedrive client is the ability to encrypt files between your computers and the Livedrive servers. You do need to go into the settings and enable this feature, but it's a great addition to an already-great service.
Now, you should be aware that DrivePop Backup is designed to be a mirror copy of your local computer files only. If you want to the ability to edit, move, delete or rename files online, please add DrivePop Briefcase to your plan.
There is a great knowledgebase on the DrivePop site, ensuring that you can troubleshoot any problem and self-educate yourself when it comes to using the service. There is also 24/7 customer support, which is another awesome aspect of working with this company.
Having a hard time picking the right DrivePop plan for your needs? This plans and pricing comparison page can help you get sorted.
In short, this high-quality service provides a reliable form of backup. You can easily retrieve any data that gets corrupted or accidentally deleted, granting you true peace of mind.