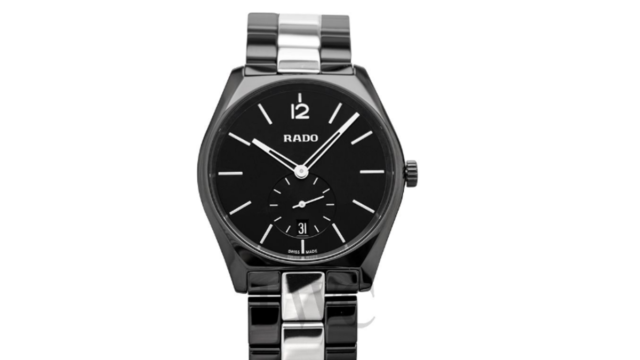 A wristwatch may now be employed in today's society to express and complete one's mode. A luxury wristwatch helps you immediately attract a person's interest in your company if you are in the business sphere. A lovely luxury wristwatch is genuinely a one-of-a-kind watch; just a handful of them can buy it.
Rado is presently one of the greatest wristwatch watch brands on the market. If you want, while choosing some of the most renowned wristwatches, to be up to date, your wristwatch brand is necessary.
Rado Watch has been a genuine driver of advancements ever since its beginnings, an undertaking that intrigued many international watchmakers. However, these are only a few of the greatest wristwatches you should consider for your next timepiece buy. The following are just some of the best you should put on your list.
The Rado True Specchio Quartz Black Dial Men's Watch
The first wristwatch on our list of the best from the Rado wrist watch collection is the model R27081157, a men's watch that delivers a unique type of design. It offers an overall black color from its casing, dial, and band, making it look more straightforward than it should have. It also has an accent of silver color in the middle of its bracelet, making it look more luxurious.
It is said that this timepiece offers a practical design that is loved by many wristwatch enthusiasts nowadays. However, the features and functions that it provides are also astonishing on their own. You will have a ceramic material for its casing with a solid back of 37 millimeters in diameter. It is also paired with a ceramic band that complements well with the overall design and color.
The Rado Centrix High-Tech Ceramic Diamond Ladies Watch
The R30935712 is another extraordinary timepiece you can purchase from the Rado wrist watch collection. It has its unique style of combining the color black and silver for its overall look. You will be getting a design of the black inner part and a silver outpart color for this timepiece, which makes it look unique, resulting in pleasing most wristwatch enthusiast eyes.
This round shape timepiece is built with stainless steel and ceramic materials for its casing with a combination of a solid back. The size of 31.1 millimeters and 28 millimeters for its diameter also best suits individuals with small wrist sizes. Its band also complements its casing as it is also built with stainless steel and ceramic materials.
The Rado Golden Horse Blue Dial Automatic Men's Watch
The R33930203 from Rado's Golden Horse is the finest for you if you want a premium men's watch with a straightforward yet spectacular aesthetic design. It is provided in a 37 mm circular stainless steel casing with a screw-down rear cover and a scratch-proof crystal sapphire front cover to withstand waters of up to fifty meters.
This item has the iconic 'Golden Horse' logo, the date mark at 3:00 pm, hands in silver-tone and stick-type hour markers on a beautiful blue dial. In contrast, its automatic caliber delivers up to 80hours or more than three days of excellent power reserve.
The Rado Captain Cook Blue Dial Automatic Men's Watch
The Rado R32105203 from the Captain Cook series is one of the most straightforward yet most satisfactory timers on the list. It has a stunning blue dial with luminous steel hands, index time markers, date displays on the side, and a crystal front cover with Sapphire scratch resistance. A 42 mm stainless steel case with a blue ceramic bezel is linked to the lovely dial.
This watch also boasts a screw-back cover with up to three hundred meters of guaranteed water resistance as it is one of the most extraordinary waterproof watches in the industry. Moreover, the caliber is accurate, self-winding, with a power reserve of 80 hours.
The Rado Golden Horse Green Dial Unisex Watch
The Rado R33930313 is also a fantastic watch from the Golden Horse series. It's a unisex unit-watch with a limited edition fitted with an accurate and dependable automatic winding caliber. In addition, this clock's case and strap are made of superior 37 mm in diameter stainless steel.
With the renowned 'Golden Horse' insignia, a lovely green dial, a date window at 3 am, silver-tone hands of the arrow, and stick-type time signs are also mounted in a case. The front is protected with a scratch-proof sapphire crystal, while the rear is coated with a screw-down lock.
Takeaway
Rado is one of the most famous wristwatch manufacturers and contributes to the originality and growth of the wristwatch industry. A list of five notable wristwatches has been produced to help you make your next wristwatch investment.