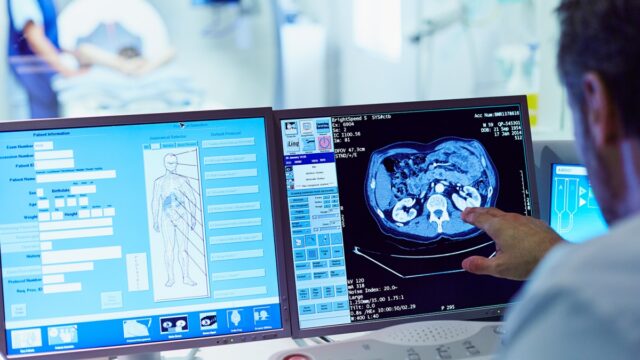 The technological advancement was already evolving rapidly, but the COVID-19 crisis accelerated the transformation. Digital technology has helped a lot in the fight against the virus.
Different countries applied different technologies to help with containment processes such as contact tracing and testing. It helped in some instances in flattening of incidence curves.
A study estimated that more than $250 billion US dollars could be spent in healthcare in the US to adopt virtual care models after the pandemic. Another study showed that there was an increase of telehealth in the US by 4000 percent.
This phenomenon has been seen across the world and not just in the US. The increase in telehealth and virtual care capacity has lead to a rise in digital health tools such as contact tracing and self triaging.
Below we look at the technologies that have been adopted rapidly during the COVID-19 pandemic.
1. AR/VR/MR
Augmented and virtual reality have been crucial in improving the quality of telehealth during the pandemic. From educating medical students in procedural simulations to enhancing provider and patient visits, the technology is converting science fiction to reality.
VR and AR have shown promise for assisting stroke victims against motor deficiencies. The patient needs a robust environment to regain motor control. But, simulated environments offer more flexibility you cannot get in physical therapy. Health facilities use these controlled simulations to gather data that help therapists create care plans for the patients.
Augmented reality offer information in 3D space in a doctor's or surgeon's vision. Therefore, they have access to real-time data that helps them in their procedure. It helps students learn about medical procedures in overlays, and it also assists doctors in comparing data to make a more accurate diagnosis.
2. AI in Diagnostics
Healthcare AI solutions are widely used in the medical sector to help both – patients and personnel to improve the quality of the services and get the best results possible.
Artificial intelligence has helped in risk prediction and rapid diagnosis of COVID-19. For instance, a cloud-based AI CT service has been used to identify COVID-19 pneumonia cases in China. The technology processes CT images and differentiates COVID-19 from other diseases, which speeds up the diagnostic process.
Also, digital software and a stethoscope called Feelix, come with AI and have been used to diagnose respiratory conditions. It has helped to create a reference library for audio files for COVID-19 disease.
By collecting the data and analyzing it, it would be possible to identify the specific acoustic signature of the virus.
These AI solutions have helped in the fight against the virus, and its demand has been increasing significantly.
3. Contact Tracing Apps
Contact tracing apps, migration maps, and other tools have allowed for real-time data collection on the location of people. Machine learning models are being developed based on these data. It helps to forecast the SARS-CoV-2 transmission and guide border surveillance and checks.
4. Robotics
Robotics is applied in healthcare these days. They handle several scenarios like amplifying and assisting human efforts in various care tasks. They can help with food and medicine delivery, disinfection, and monitoring of vital signs. It can help reduce the infection risk of the personnel.
The most common example is the Alana system. It offers support and health-related information through conversation AI. It has a feature where it can detect misinformation and myths and offer advice on mental health. The robot also shares validated sources of information from reputable organizations such as the WHO.
5. Internet of Medical Things (IoMT)
There has been a lot of technological advances that are driving innovation. It leads to an increase in connected medical devices. These devices generate, collect, transmit and analyze data. They constitute a connected infrastructure of software applications, medical devices, and health services and systems.
In China, telemedicine, and case discussion by experts powered by the 5G network have allowed for medical response and treatment of COVID 19.
Therefore, it leads to the accelerated development of 5G telemedicine in China as hospital management and doctors depend on this technology to reach their patients in remote areas.
6. Big Data
There has been an increase in the demand for big data in healthcare because it assists in making informed decisions and tracking patients. It also helps track the spread of diseases and viruses using a map.
The pandemic has accelerated the need for these data to track the spread of the COVID-19 virus in real-time. Trackers gather data and help healthcare workers, epidemiologists, scientists, and policymakers get enough information.
It helps in information sharing among countries, governments, and hospitals. It helps in understanding different treatment modalities and identifying treatments with better impact.