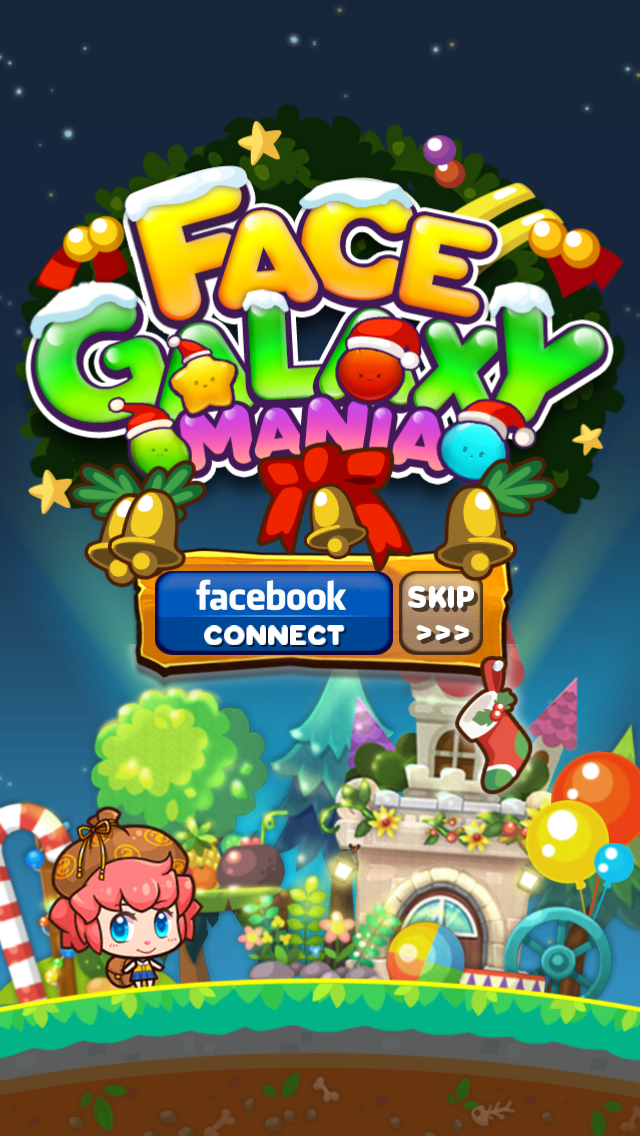 Developed by SoulGame Studios, Face Galaxy Mania is a puzzle game that is sure to whet the appetite of those iOS users who have recently been addicted to games like Candy Crush Saga or Bubble Witch. Given the big competitors in this puzzle space, how does Face Galaxy Mania stand up?
Mythical, magical universe of puzzles
In Face Galaxy Mania, you will progress through levels by connecting linear lots of fairies. Of course to truly master the universe, you will need to employ the use of magic through the 4 key elements of fire, water, earth and light (not an element if my year 6 science teacher taught me well).
Your ability to explore this universe and outscore the other characters in the game will see you crowned the Master of Face Galaxy. The app also allows you to:
Connect cute fairy faces to win, easy and fun to play.
Match 6 faces to summon a special elemental with epic power to release.
Upgrade elementals to unlock advanced power with superb effects.
Collect hundreds of celebrity faces during the adventure.
Create and share your own avatar to show unique personality.
Play with friends and compete with their progress.
Discover the Face Galaxy and challenge special bosses.
100 fun levels in 5 lovely planets and more to come.
Easily sync between devices and enjoy the game even without internet connection.
Familiar gameplay, with refreshing and original characters
The gameplay is pretty much the same as any other of these 'connect the colors' puzzle but the characters that are introduced on your journey are rather charming and make progressing through the levels fun and engaging.
You can also set up your character as an avatar, making your quest to become Master of Face Galaxy that little more personable. The app has been well executed, the fact that this feels similar to some of the more popular puzzle games is a good thing. Why change a winning formula?
If you really want to master the universe, you will have to dip into the in-app purchases that are on offer. In order to buy some of the more efficient power ups, you will need to buy rubies which are then converted into coins to use within the app. You can get by without purchases but if you are serious, just be aware that there are IAPs involved.

Face Galaxy Mania is as pretty as it is fun
The app itself is really well designed, although the formula is not overly original, the characters that you build yourself an encounter along the way are very original. The use of colors and the look and feel of Face Galaxy Mania make it a very appealing app to spend hours in front of.
Depending on whether or not you have an addictive personality (my 5 cups of coffee a day make me thing I'm one of them), then you are likely to sink a bit of time into this. But that's just credit to the app for being so easy to love, rather than a red flag at your low levels of self control!
Master the Universe, but don't rule alone
As mentioned before, you can create your own avatar which makes this app that little more personable. Once your happy with your created character, connect to Facebook and invite your friends so that you don't get lonely on your journey.
This app is a winner. The gameplay is fun and engaging with interesting characters and powerups offered along the way. The design makes it a pleasant interface to sit in front of and it's social integration means you don't have to keep this to yourself.
Face Galaxy Mania is coming to the US AppStore very soon and is currently available on the Google Play Store. Like the Face Galaxy Mania Facebook page to be kept up to date as to when the app will be released through the app store.