[googleplay url="https://play.google.com/store/apps/details?id=com.flayvr.flayvr"]
TheFlayvr Android Appprovides a quick and easy way to access your most memorable videos and photographs. Instead of having to scroll endlessly through your media files, Flayvr allows you to create independent, editable albums to group and organize your favorite memories.
Once your media is safely and neatly stored away in your specified albums – called "Flayvrs", you can then begin to share your images and videos with friends and family.
Upon starting up Flayvr for the first time, the app will walk you through its functions, and then begin searching for your your media files. Once your files have been found, Flayvr will give you the option to automatically create your own albums.
Beautiful, Interactive Albums
After Flayvr scans your device for stored media, it has the ability to recognize photos and videos taken at the same event, and then proceeds to build a beautiful, interactive collage. Your timeline is then neatly sorted and displayed by time and location.
You can view photos and videos in full screen, side by side and even get rid of the ones you don't wish to see. Unless you share your albums, nobody has access to them except you, via your device, as Flayvr does not offer any cloud-based storage service.
Once you are happy with your albums, you can easily share them via Email, Google +, Twitter, Facebook and SMS.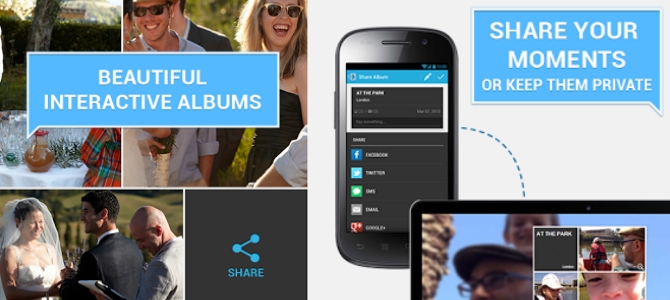 Flayvr

Design and Interface
Flayvr is extremely well presented, and does justice to high quality images and videos. Your albums are neatly set out in a collage-like fashion. Viewing your media in Flayvr is like viewing them for the first time all over again.
The app has an elegant, minimalist design, relying on your images to make up most of the interface. The menus are clear, crisp and easy to navigate, allowing you to view images and share them with complete ease.
Personalizing the app by changing the name, location and contents of all of your albums is easy to do, and greatly adds to the charm of Flayvr's overall look and feel.
Final Remarks
To conclude, Flayvr offers a unique presentation of both old and new media, allows you to take take new images and view your videos in a whole new light.
The app is a joy to use, and allows you to re-discover the images and videos stored deep within your galleries, almost instantly. Forgotten memories and trips are suddenly brought to life once again, in a way which allows you to share both locally via well presented collages, and socially, via Facebook, Twitter and so on.
Download Flayvrfrom Google Playfree of charge on Android devices running Android 2.2 and up.