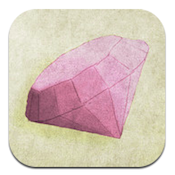 Price: $0.99 Score: 9/10 Category: Games
In all the years I've been playing video games on various consoles, PC setups, and mobile devices, I've never encountered a game quite likeGaias Quest, developed by Dinoroar Interactive.
Featuring beautiful illustrations that seem ripped from the pages of a children's book, Gaias Quest is a blend of kid-friendly graphics and intuitive puzzle-based gameplay.
Featuring a distinctive art style that looks a bit like watercolors or cray-pas oil pastels, the beautiful environments in Gaias Quest will draw you right into the game. Your goal is simple: find the purple crystals that the goddess Gaia has hidden across multiple worlds.
All told, there are 16 different land and seascapes you must navigate throughout Gaias Quest. Each "page" of the game requires you to slide one part of the picture towards another– for example, an early puzzle requires you to slide a shell towards a naked hermit crab. However, things get much more complicated from there.
The visual style is inviting and engaging all at the same time, and while the app isn't specifically targeted towards children, the art style certainly lends itself towards a younger audience. If you're a long-time gamer looking to pass the gaming torch on to your young sons or daughters, Gaias Quest would be a great game to start them on.
Gaias's Quest advertises itself as the "most accessible puzzle adventure on the App Store," and they aren't wrong. Challenging for kids and adults alike, Gaias Quest offers puzzle-tastic gameplay that is sure to entertain both novice gamers and experienced puzzle junkies.
With smooth, bug-free gameplay, great graphics, and tons of hidden secrets to uncover as you go along, Gaias Quest is well worth the cheap price of a single buck, and offers a decent amount of replay value. Add in a hint system to help you when you get stuck, and there's nothing not to like about this casual puzzler.
Gaias Questis compatible with iPad. Requires iOS 4.3 or later. A small expedite fee was paid by the developer to speed up the publication of this iPad game review.