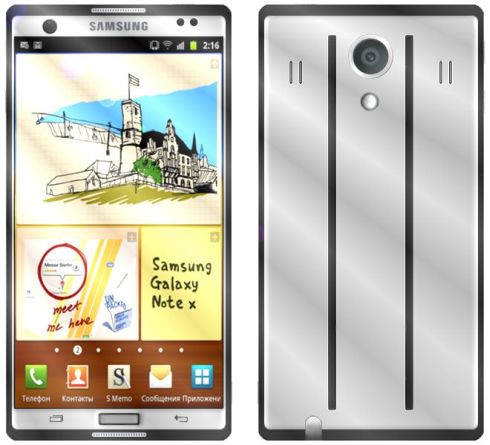 According toThe Korea Times, Samsung's next Galaxy Note will push the boundaries of the phone/tablet break, coming with a huge 6.3-inch display. The report says that manufacturers are starting to supply Samsung with 6.3-inch OLED screens, which will go on their newest Samsung Note 3.
This is a large leap from the previous two Samsung Note screen sizes, at 5.3 and 5.5 inches. The Galaxy Note was already on the fence, with many reviewers questioning if this should go under a new category. The 'phablet' name was sometimes coiled and used by Samsung for a short time.
If the Galaxy Note does come to market with the 6.3-inch screen, it will really close the gap between sizes of a phone and a tablet, with popular tablets nowadays coming with 7-inch screens. Samsung itself might be bringing out a new 7-inch tablet to go up against the Nexus 7 and Kindle Fire HD soon.
The Galaxy Note is not the first smartphone to be rumored with a 6-inch display, Huawei are said to be sticking a 6.1-inch screen on the new Ascend Mate, their new smartphone that should be coming out sometime next year. These will be the first two smartphones to have this 6-inch screen size.
Samsung recently posted a YouTube post called 'Something New' and the title suggests that Samsung may be reworking or changing our idea of their company or their smartphones. With flexible AMOLED screens and other new ideas that are coming to the technology industry, we may see something completely different by Samsung.
For now, we just wonder how large we will go on a phone – will all tablets start to have cellular features? Will people be able to receive a call on their 10-inch iPad in the near future? We hope it is not the case, but as the technology universe moves forward in strides; any company could try to make the phone bigger.