It has been reported on multiple instances that Samsung was planning to increase the display of the Galaxy S8 by an astronomical margin so loyal consumers would eventually forget about what happened with the Galaxy Note7.
A leaked image from TechnoBuffalo shows that those rumors were right all along because the image shows that the flagship will have a 5.8-inch display. In comparison, the 6.2-inch Galaxy S8 Plus is close to the size of a tablet, so unless you have massive hands, you should steer yourself in the direction of the Galaxy S8 instead.
4GB of RAM and 64GB of onboard storage have been listed, and for improved flexibility, Samsung might just throw in microSD card expandability. The company is not going to be using a 4K display with the Galaxy S8 which is a well thought out decision because it would have been pointless on a screen this small. The phone is not going to be shipping with a dual-camera at the back. Instead, what you're getting is possibly an improved 12MP rear shooter and an 8MP front sensor.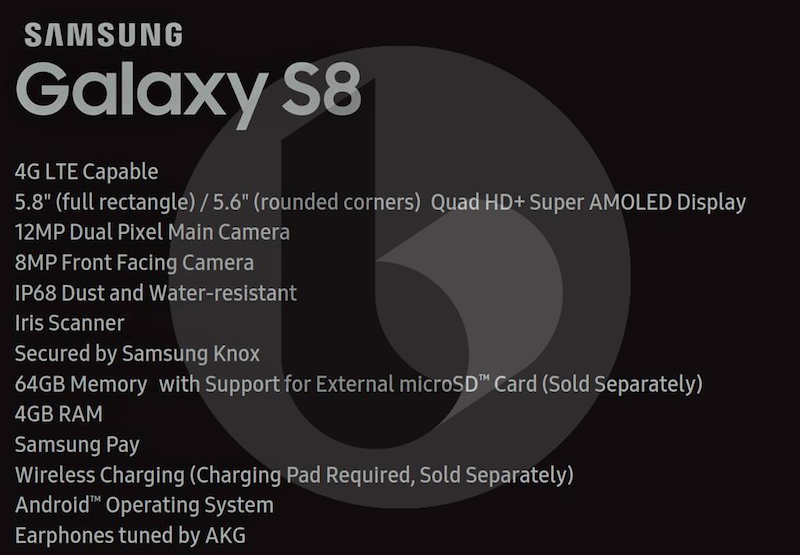 There is also an iris scanner listed, which was present in the Note7, so it will provide the user an added layer of security. In addition to using the fingerprint reader, you can also get used to unlocking the phone using your own pair of eyes. Both phones can be charged wirelessly but if you want to take advantage of this feature, you'll have to purchase the wireless charging pad separately since it will not be bundled with the phone.
What will be bundled with the phone is a pair of earphones which have been said to be tuned by AKG, a known manufacturer of quality audio products. These might deliver decent sound quality, but only time will tell how many other accessories will you have to purchase after you've ended up buying the Galaxy S8.