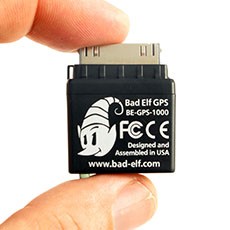 I was always tempted by the 3G version of the iPad since it came with GPS, and it made a badass sat nav for the car, but with an extra £100 premium over the WiFi model, it was a big step. This is why a new dongle by CoPilot and a company called Bad Elf is a welcome addition, providing GPS functionality to any iDevice.
With the small GPS dongle, coupled with CoPilot's own navigation software, your WiFi iPad can be up and running in no time, providing navigation goodness without the need for a data plan.
Head of consumer applications for ALK Technologies, David Quin explains their motive:
"People have always been so disappointed when we've told them that the expensive new iOS device they bought doesn't work with navigation apps because it doesn't have a built-in GPS receiver".

"It has always seemed like such a waste of great technology. But now, with that combination of Bad Elf's GPS receivers and CoPilot Live's maps that don't require any mobile connection for navigation, we have a way to make all those devices more valuable and handy."
On one end of the device is the 30-pin adapter to plug into your iPad, with a USB port the other end for charging the device and powering the dongle. Simply plug it in to your car, the other into your iPad, launch the App and away you go. The dongle can also take power from your iPad if there is sufficient battery available.
The Bad Elf GPS will work with all over GPS software applications, providing there is a cached mode such as TomTom and Navigon, but unfortunately won't work with the likes of Google Maps.
An extender cable is also available should you require the dongle to be placed closer to the window if you're having reception issues. TheCoPilot software bundled with the Bad Elf GPSunit can be bought for US$99.00.