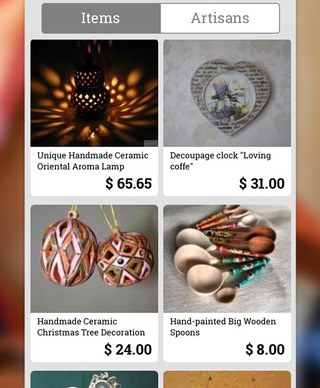 [app url="https://itunes.apple.com/us/app/globein-shop-handmade-support/id883018246″]
The online market can be a rather heartless, soulless place to do your shopping. GlobeIn looks to remedy that by adding artisanal authenticity to the e-commerce realm, connecting consumers with craftspeople across the world. This mobile extension of the GlobeIn website is a brilliant idea which makes excellent use of the mobile platform as a way to enter the global marketplace.
Creative people worldwide have signed up with GlobeIn to help them reach the international market in a way that a traditional artisanal business model never could. Through the GlobeIn app, shoppers now have access to a treasure trove of distinctive decor items, clothing and more – these are the things you travel the world to find, now placed within your reach. It's not just a faceless wall of retailers, it's a community which can be explored; each listed artisan has their own space to share their story, to describe their products, and to set up your purchases.
The flow from browsing to buying is seamless. GlobeIn is wonderfully simple to use with an intuitive structure and clean interface, streamlining what could have been a terribly cluttered affair considering the sheer wealth of shopping content available here. Items are neatly categorised and artisans are divided by region, while the home page is regularly populated with curated groupings, so you never feel like you're sifting through an endless pile of random trinkets.
One of biggest stumbling blocks for crafty types is getting their products out there – a stall at a market can only do so much to spread the word. In these cases, GlobeIn could be the shortcut needed to turn a fledgeling craft hobby into a viable business. With a body of artisans from over 40 countries, covering items from masterful woodwork to handcrafted jewellery, this virtual bazaar has to be an essential destination for shoppers looking for something truly unique.
Requires iOS 7.0 or later. Compatible with iPhone, iPad, and iPod touch. This app is optimized for iPhone 5.