It's now looking as though golden smartphones are becoming a trend since the LG G3 will reportedly offer gold as one of the colors for its upcoming flagship handset. The Verge has published a photo of what appears to be the packaging for the G3, adding to an earlier leak from evleaks which showed the LG isai FL, the Japanese variant of the G3.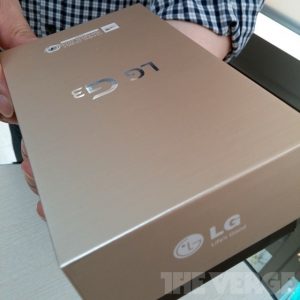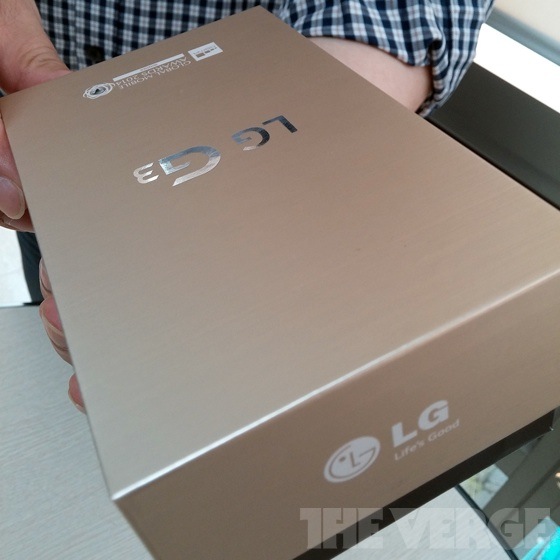 There will likely be some differences between the Japanese version and the worldwide/North American version of the LG G3, though from evleaks picture we can tell that the handset is nearly bezel-less.
Not only will the phone feature a edge-to-edge display–or as close to one as you can currently get–but LG has confirmed that it will run at a resolution of 2560*1440.
Depending on what your view is, having such a high 1440p resolution may be awesome or it may also be a waste considering the extra power that the battery will have to supply for it.
The Oppo 7 is one of the only devices on the market with a similar, yet slight larger, display. Since LG has confirmed the resolution of the G3's screen, we already know that it will likely be the first mainstream device to feature a 1440p display.
On top of providing a picture of the box, The Verge says that its sources have confirmed that the phone itself will come in gold. The LG G2 already has a gold variant and so does the new HTC One and the iPhone 5S.
Another recent report suggests that there will actually be two versions of the LG G3 when it is released, with the previously described version shipping with a better screen. The other iteration could feature a more common 1920*1080 display but would also come with 3GB of RAM. The second version could therefore be more of a powerhouse device whereas the first would be geared towards people that absolutely love higher resolutions.
Though we do not know if there will be two versions, all of the most recent reports do agree that the G3 will be coming out this summer.
Question – Are you a fan of the gold phones or is the color off-putting?
Summary

: LG will reportedly come out with a gold version of its bezel-less 2560*1440 G3 smartphone. There may also be two versions of the LG G3, with at least one coming out this summer.

image credit: theverge