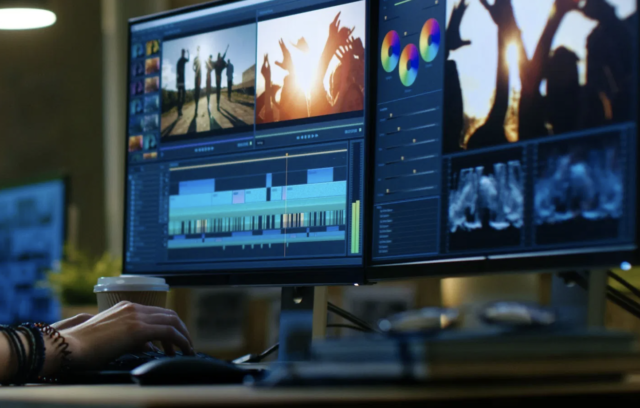 Interested in telling heart touching stories in the form of movies? Then you must admit that videography plays a crucial role along with the stories.
If you want to take your viewers to the world of your imagination through a series of awesome movies, then you need to focus on the video quality. And in this article, we are going to introduce you to the top 8 video editors in the year 2020 for Mac.
These movie makers (click for more info) are equally beneficial for a newbie or an expert because everybody wants to have access to the best video editing software for Mac systems according to their knowledge and grasp on that particular domain.
You may need to edit videos as and when necessary based on your project, but the quench for downloading or registering to some paid video editing programs will enhance your creativity.
Never stop yourself from learning new skills and upgrade with the new tools coming into the market. These video editors are useful for creating outstanding YouTube videos too. So, without further ado, let's explore them!
1. Final Cut Pro X
This is marvelous software for both entry-level and Pro. It is exactly what you need when you are an aspiring video editor with little experience. You will probably need to invest some time and energy on a few tutorial videos to get adapted to all the features and benefits it offers to the users.
But once you start following the learning curve, you will discover more and more tricks every time you will be using it. And it is quite natural that as you will get familiar with the advanced features, your video quality will improve dramatically.
Although it is one of the most preferred tools of the experts along with the amateurs, it comes at an affordable price section in comparison to others in a similar category. Anyone who wants to acquire hands-on experience can choose it as this comes packed with easy to handle features.
2. Adobe Premiere Pro CC
This software is specially designed for professional videographers who are involved in making full length or short movies or documentary films, and so on. A learner dreaming of mastering in video editing in the future can also choose this high-end software. But just for hobbyists, this would not be the right pick.
Subscription to Adobe Premiere Pro CC provides you access to all types of video, and the best part is that it is not limited to MAC; you can use it on different operating systems.
It is better to begin with, Adobe Photoshop or Illustrator, then switch on to Premiere Pro. This learning path will help you pick up the advanced features with ease.
3. Apple iMovie
Apple iMovie is unparalleled if it just wants to start out with apple products like iPad, iPhone, or Mac. This is ideal for the amateurs to create some awesome videos as this comes free.
Since this is suitable for wireless gadgets, you will be carrying this in your pocket or handbag and can use it anywhere. With it, you can mix up different video files, audio tracks, add title screens with a clear flow. You can also add some special effects to them.
4. Adobe Premiere Elements 2018
This is the elementary version of Adobe Premiere Pro, as the name indicates. This means it has lesser features than Pro, and they don't roll out continuously as Premiere Pro.
If you are just beginning with video editing, you can try this easily approachable tool before you switch to the advanced software. The subscription model is convenient too.
Pay for it once, and you are ready to start out. If you are not an experienced videographer, it has some tools to help you out to make a better video. Another vital point, this supports cross-platform usage.
5. Shotcut
This is immensely popular amongst the aspiring video artists since it comes with a wide range of features at zero cost. And this is platform-independent.
You can use this both in Mac or Windows. If you have some understanding of video editing, you will find numerous interesting features in Shotcut. This works similarly to any paid software tool to meet your various editing needs.
Don't think it is very easy to use the software. Just because you don't need to spend a single cent, millions of people are using it and creating tutorial videos, which is tremendously helpful for the newbie.
6. Lightworks
This is a combination of free and paid tools. Grasping different features is much easier than Shotcut, but you may have to pay for accessing the advanced components.
You can import various file formats and manage multiple files containing audio, video, image to create an outstanding final product.
7. DaVinci Resolve 15
If you have promised yourself to become a brilliant video editor and will work with all file formats to create a high-quality product without paying anything, then DaVinci Resolve 15 is the right choice.
You will have access to a plethora of functions. The paid version is obviously for the more advanced ones.
8. Camtasia
Camtasia software is considered as the master for tutorial and presentation videos. This has a unique combination of screen recorder and video editor built in a single product.
Therefore you can capture footage from the computer screen. And this allows you to use any operating system, Mac or Windows. You will get multi-track timeline editing, tools necessary in animation, audio, video, and annotations.
Video editing is a booming career field where you will have the opportunity to blend your creativity with the new-age software tools. This is applied to movie making, great YouTube video creation, brand promotion, presentation making, and various other fields. To know more, visit www.videocreek.com.
If you are new in this sector, try some free software first. As you gain knowledge on some of the popular components and create some basic videos, gradually, you can shift to a paid service for accessing advanced tools.