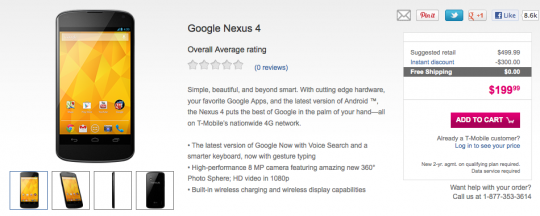 There are certain benefits to owning a Google flagship smartphone — there's less clutter, they're usually easier to mod, their first in line for Android OS updates and, most importantly, they're quite affordable. The latest Nexus phone, the result of a partnership between LG and Google, is no exception but if $349 isn't cheap enough for you, then you may want to check out T-Mobile's deal for the super-hot Google Nexus 4.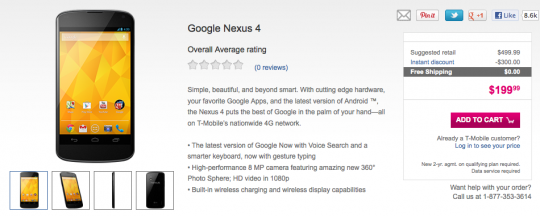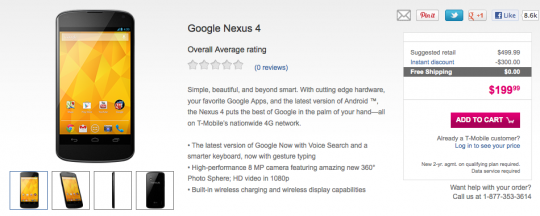 The Google Nexus 4 has been selling like crazy and has actually sold out within hours, even minutes in some situations, of its release in most locations. If you're one of the many unfortunate souls still unable to get the device, then you may be in luck as long as you're a T-Mobile subscriber.
The carrier is offering the 16 GB variant of the Google Nexus 4 for just $199 with a two-year contract. However, if you're thinking of getting it contract-free, you'll have to shell out $150 more than the Google Play Store price as T-Mobile's "suggested retail" for the smartphone is $499. Still, if you've got money to burn and are unable to wait  until the Play Store gets more stocks of the Google Nexus 4. this may be your best option at the moment. Personally, I recommend you get it on a contract or wait for new units to come in on the Google store.
Were you able to order the Google Nexus 4? Does the $150 price cut with a T-Mobile two-year contract appeal to you? Share your thoughts in the comments below!