If you aren't a fan of the camera that has come pre-installed on your Android device, Google is here to help. The company has released its own camera app on the Play Store, and much like the Google keyboard app, the camera is simple but very functional.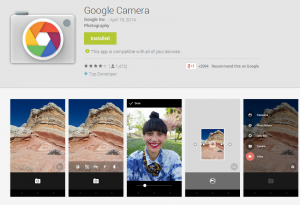 Besides a 100 percent viewfinder–this ensures that your camera's sensor picks up everything there is to see without dropping pixels–there are also lens blur, panorama, and photo sphere effects.
Any smartphone or tablet that is running KitKat 4.4 or higher will be able to download and use the new application, though Google says that other devices will receive it in the future.
Early reviews of the camera are positive and the app already has 10,000-50,000 downloads.
One of the primary complaints that people have brought up in the review section is the speed at which Google's camera app captures photos. Numerous individuals have complained that things are simply too slow, even though the user interface may be superior.
The panorama feature functions in the same way that others do, as it allows you to take immersive horizontal shots. However, camera sphere is perhaps even more interesting since you can take panorama-like shots without being limited to the horizontal plane.
Lens blur, while somewhat difficult to use, does what it suggests. This feature is common in recent photo applications but if you don't already have it, the Google camera app will now let you shift the focus of your pictures.
Though a larger capture button is included, it takes up so much space that reviews have said that it is a negative and inefficient addition. When the camera button is pulled up, it can take up as much as 20-25% of the screen.
There are definitely some improvements that Google should make but in comparison to other camera apps, Google's may indeed be a better option.
Question – Do you like Google's new camera app, or is the pre-installed one superior?
Summary

: Google has releases its own camera app. It includes panorama, photo sphere, and lens blur effects. The app is free and already has 10,000-50,000 downloads.

image credit: