Despite the fact that A10, the upcoming chip from Apple is probably going to be made on TSMC's 16nm FinFET technology (much like A9), a better chip design will naturally improve its performance over its predecessor and even result in a higher battery life for the upcoming iPhone 7, which to let you know, is going to land in September.
Now thanks to Techtastic, the latest Geekbench scores showing Apple's A10 in action have been leaked, and it's everything that we thought it would be in terms of performance. However, while we always knew that A10 would be faster than an A9, what really bothers us is how much of a performance gap is left between A9 and the upcoming chipset that is going to be present inside the iPhone 7. In terms of the number of points obtained, A10 rivals that of A9X, which is found in Apple's iPad Pro, and is able to achieve a very decent lead over A9.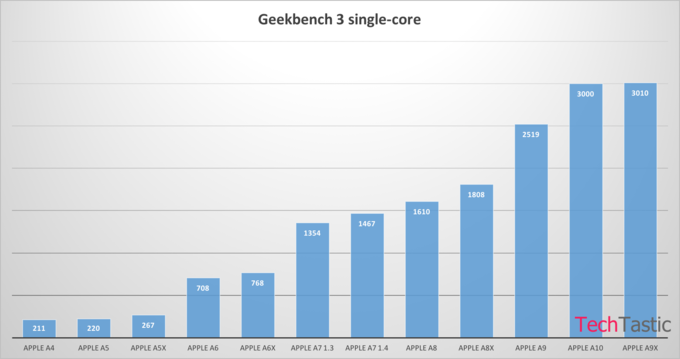 As we continue to praise the A10, we did notice that there is not much difference between the chipset and A9, at least not the difference created by the performance gap between A9 and A8. This could mean that a newer manufacturing process, such as the 10nm FinFET technology will be required to gain that performance gap once again and to provide the efficiency that will enable higher battery life.
While these scores are impressive, the performance gap has been reduced quite a bit, and that's just not acceptable. While this is just a leak, and can be dismissed till some benchmarks are run on an iPhone 7, we will say that if you're looking to upgrade, it's probably best to wait another year.