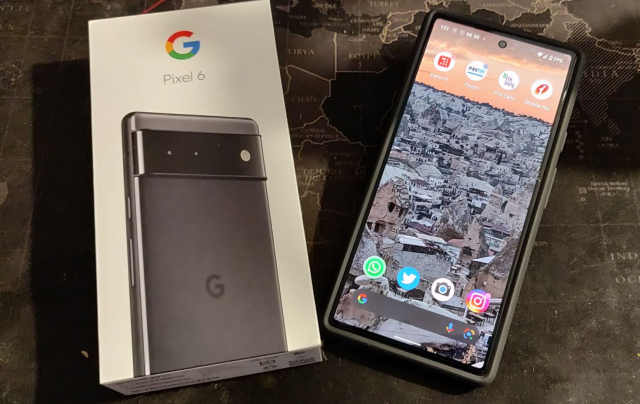 I'm an out and out Android girl. Even though I love my Mac like Elon Musk likes memes, when it comes to mobile phones, there's not much swaying me from the Google universe. Maybe it has to do with the fact that I've been a Googler for the better part of my life and have gotten used to receiving pretty much every phone Google made, for free for every year as part of Google's annual holiday gifts. Or maybe because the software on the Google phones is truly incredible. Even though my first official smartphone was an iPhone (before it had a number assigned for every version), the first real smartphone I had was a Google Nexus 1, and then had the Nexus S, Nexus Galaxy, and Nexus 5 phones respectively.
After I left Google was the first time I switched from a Google made phone to a One Plus 6, but to be honest, there was always a sense of missing out or FOMO about a true Google flagship.
And voila, 4 years after straying from the Google universe, I'm back into the game.
I'd been setting my eyes on the Google Pixel 5 ever since I noticed how a friend of mine ran a stunning Instagram page completely on the back of photos from the Pixel 5. The phone was also easy on the hand, but it did cost a pretty penny where I am (India). At nearly $900, the Pixel 5 5g wasn't cheap, but the heart wants what it wants. (and what's available)
But just as I unwittingly spent days adding and removing the Google Pixel 5 in my Amazon cart as the prices fluctuated, Google dropped a new Pixel. The Pixel 6 and Pixel 6 Pro and at prices that seemed like an error at first – Pixel 6 at $599 and Pixel Pro at $899. Even the more expensive 264GB Pixel 6 Pro was only marginally more expensive at $999 than the Pixel 5 in India at $850 so it was a no-brainer that I had to acquire a Pixel 6, and not its predecessor.
But hold on, the Pixel 6 would only be launched in the US, Canada and UK at first and we lesser mortals in India would have to wait months or even a year or more, if that, to get our hands on a Pixel. Aint nobody got time for that. Add to that, I had an official work trip coming up from the email marketing agency I work at so I had to make sure I had the Pixel 6 before it, lest I be forced to schlep my 2kg Canon 6D DSLR on the trip. And my days of DSLR are well-nigh over thanks to the more than decent job the phone cameras do these days. I'm no influencer and if a phone can do good quality and hopefully not pixelated photos while making the place (and myself) look good, that should do.
So mission Pixel 6 it was. Like every Indian does for a product not available in India, I asked everyone if they knew anyone coming from the US to my city or even country anytime soon. I posted on all the groups. The tricky part was that Google Pixel was only available for preorder after its launch on Oct 19 and it'd only start shipping the phones on Oct 28, and my flight out was on Nov 8 which meant I had a window of exactly 10 days to get the Pixel delivered in the US to someone who was flying to India before Nov 8. I mean a Bollywood movie had a bigger shot at winning the Oscar!
But then like Paulo Coehlo said "when you want something badly enough, the universe conspires to get it for you". In this case, I guess I wanted the Pixel 6 badly enough. Because lo and behold, right around the middle of my frantic hunt for a Pixel 6 mule, I got an Airbnb request (Yes, I do Airbnb a spare room in my house every now and then!) from someone coming from Canada and even though I didn't accept the booking then, it struck me a few days later. The opportunity to get my Pixel from Canada (if not the US) had literally come knocking on my door! And there began the prayers that this benevolent stranger would agree to bring me the Pixel 6 with my name on it in exchange for a free stay in my Airbnb. Things were meant to be as this person accepted my request and immediately ordered the device for me! On the flip side, I had to pay the extra Canada taxes and an express shipping fees, making the phone a whole $150 more expensive for me than its $599 launch price, but even at $650, I think it was worth it.
So my beautiful Airbnb guest arrived on the morning of the day I was to leave for my Istanbul trip, (talk about cutting it close!) and handed me my shining new Pixel 6.
Barely did I have time to set up the phone and take off my trip. So actually I didn't. I largely used the phone as a camera during my trip, and man am I impressed? It's been 2 weeks since I started using the Pixel, and I have to say this. It's the best damn camera I've ever used on any phone. Check out this photo of a Turkish delight that was taken from the Pixel 6 during the day or the photo of the Hagia Sophia at night in nearly dark conditions. In fact one of the photos I clicked with the Pixel made it as a catalogue photo on an Indian Ethnic Wear store.
IMHO, The clarity, the colours, the exposure, the depth on a Pixel 6 photo is unlike anything a phone camera can produce. To my naive mind, it's the end of DSLR travel photography as we know it. If the Pixel 6 can be this good, mind boggles to think what the Pixel 6 Pro is going to be like.
And I'm only talking about the camera here. Of course the phone parts are nice too. It's much faster than my One Plus 6, hasn't lagged yet, and the larger screen helps make reading books and playing videos a much better experience. Did I mention the battery? On a full charge it lasts me 12-15 hours of continuous use, and without overheating at that so that's a big win in my book.
The cons? I miss the back 'buttons' on earlier Pixel and other Android devices. The swipe right to go back option is inconvenient to say the least. Also, the Pixel 6 does feel a little chunky in my small hands — especially with the case on, but it's a small price to pay for the beautiful job the phone does for a phone and beyond.