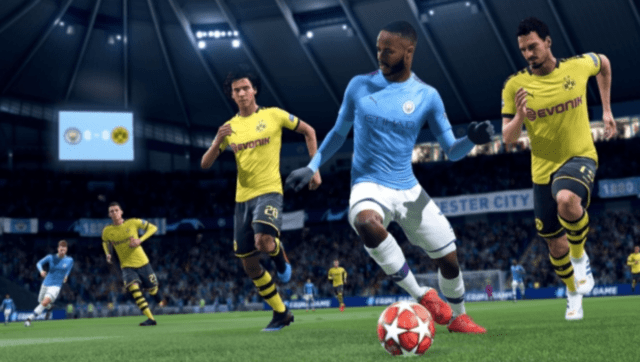 FIFA 20 is the 27th installment of the best selling soccer game that was first launched by EA Sports in 1993. The standard edition of FIFA 20 is going to be available for playing from the 27th of September. The game developers of EA Sports introduce some new features to improve every next iteration of the game. You can enjoy the excitement and passion of the FIFA 20 version on play station 4, PC, and Xbox One.
In 2020 FIFA 20 is bringing an entirely new level of authenticity by using Football Intelligence. EA Sports has a trusted formula in which they make small changes every year. But this year gamers are going to observe some bold strides, of course in the right direction. Things have changed on the ground level from "House rules", and "Bad Habits" to the "Electric Feel" of the game.
Various new tackle animations are beneficial to utilize "Active Touch System" and "User-controlled defending." This advancement in tackling increases the likelihood of retaining the possession of the ball. To enjoy and experience clinical finishing with more consistency, the developers' fundamentals of shooting are overhauled.
To take the gameplay to a new level of realism Ball-Physics System has also been elevated, offering a Physics-driven behavior, varied short trajectories, and more realistic tackle interactions. Strafe Dribbling has been added to add more dimensions to the attacking options that provide more agilities ability to move. So this year gamers are going to enjoy at least 6 game-changing features by EA Sports that will take FIFA 20 to the new horizons of adventure and entertainment. They are:
VOLTA FOOTBALL is going to deliver limitless culture, energy, and authentic style of street football to your console for an unforgettable FIFA experience.
With the sharper than ever, AI of players FIFA 20 is taking the football intelligence to the new level.
More accessible skill moves are also a prominent feature of FIFA 20.
With more unique tools to create your dream team squad, the FUT mode is going to be the most comprehensive mode till yet.
With set up touches, controlled tackling, strafe dribbling, and composed finishing gamers are going to get more control on the pitch.
Game modes of FIFA 20:
There are varieties of ways to play FIFA 20 that are accessed from the Main Menu. These ways to play include:
• Volta Football:
It is the latest edition to the FIFA 20 that has replaced the Journey storyline mode. This is an effort to revive classic FIFA street games by focusing on skills and tricks and using the FIFA 20 game mechanics. This story mode has a real Volta Football quest that initially starts with the lowly armature and builds skills, outfit collection, and ratings by playing and winning the tournaments.
• Kick-Off:
It has the options of Volta Football friendly matches, contests, and cup finals. It also includes House Rules games and Champignons League. Kick-off is considered the easiest step to get started in FIFA 20, where you can quickly enter straight into a match to play using any two teams you wish to choose. You can avail of classic match options of extra time, friendly games, and penalties.
• Career Mode:
This is the offline game mode that offers you to choose a Player Career or a Manager career. In player career, you can take control of a single player, work on his abilities and develop his skills, international call-ups, and earning transfers. While choosing a Manager Career allows you to take charge of a club and manage all the matches' tasks, training, scouting, and transfers.
• Pro Clubs:
In this mode of 11-vs-11, every gamer controls a single-player and name and design him; however, he likes. In FIFA 20 pro clubs EA Sports have added more than 25 new customizable kits with nearly 150 crests to select from.
• Champion League:
This is a kind of standalone competition by using any European team. These competitions include Copa Libertadores, Europa League, and Copa Sudamericana. It also has domestic competitions like DFB-Pokal and FA Cup.
• FUT or FIFA Ultimate Team Mode:
FUT is the most popular part of FIFA 20 that is the pathway to create your ultimate team.
FUT's best part is earning of FUT coins to buy better players by trading players on the Transfer Market, completing different objectives, and playing matches. You can also buy the stores' packs to get new players by spending in-game coin currency FIFA 20 coins or real-life money.
To build a strong team in FIFA 20 and survive in the FUT, FIFA coins are the most important requirement. This virtual currency allows you to buy players and to trade items in the FUT. Instead of this time consuming and overwhelming task, buying FUT 20 coins is a more comfortable and convenient option.
Secure buying and selling of FIFA 20 coins:
To buy enough coins for FIFA 20, you need a reliable and trusted "Sell FIFA 20 coins" store. Whether you need to buy coins or just want to exchange your FUT coins with some real money, it is advised to check the feedback and reviews. Always remember, all websites are not secure and reliable as BuyFifaCoin.Net.
This is one of the most trustworthy websites that provide players with accurate prices with their choice. With fast delivery, 100% secure online transactions, 24/7 live chat, and a money-back guarantee, BuyFifaCoin.Net provides the buyers and sellers 99.9% satisfaction. For further information and FUT 20 coins purchase, please visit https://www.buyfifacoin.net/contents-fut-20-totw-11-countdown-team-of-the-week-revealed.html