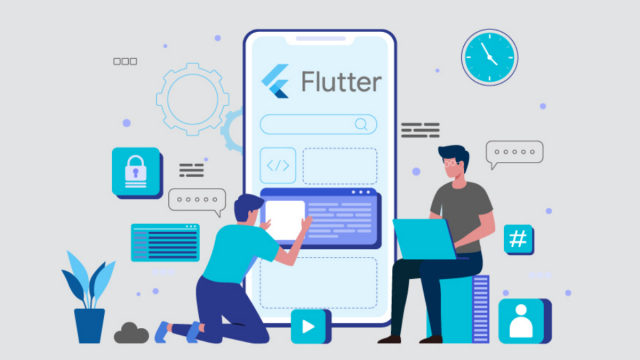 Don't know how to go about hiring Flutter app developers? Let us help you out. In today's post we'll shine the spotlight on what you need to consider and where to find the best Flutter app developers for hire.
Have you ever heard of Flutter app development? Wondering what Google's secret weapon is apart from their search engine. Well, that's flutter app technology. Mostly known to have been developed by the people at Google, Flutter is a cross platform app development framework making waves in the world of app development.
Flutter is good at what it does, and allows you to create top tier, engaging cross platform applications for multiple platforms including Android, iOS, web and desktop etc. with just a single code base rather than creating the same application several times over.
All you have to do is engage Flutter app developers to build Flutter applications for you.
However, the big question is how? How do you find the right candidates, and what are the things you need to keep in mind when hiring Flutter developers?
Well, let us guide you through this process.
But first:
What to Expect from your Flutter App Developers?
The responsibilities of Flutter app developers vary from project to project. However, there are certain aspects that remain common:
Gathering your requirements and designing an app that caters to all of them
Coding the app using the flutter framework
Testing for any bugs and fixing them before deployment
Deploying the app on your desired platform (iOS, Android)
Providing you with a working demo of the app before final delivery
Additionally:
Creativity in design: Flutter is all about creating beautiful, intuitive apps. With the right designers on your team, you can achieve that.
They should be able to build the complete set of screens for your web or mobile application.
They should be able to manage resources and time efficiently. A collaborative mindset will help them work with your team members.
Timely delivery: The right flutter app developers know how to deliver apps on time without compromising
Hire Flutter App Developers: Consider These Factors
Flutter is not a simple framework to work with. It's not designed for the average programmer, and requires a lot of caution, research, effort and most importantly experience in the domain.
You need to hire Flutter app developers who have a track record of working with flutter in the past and building successful apps.
Consider these factors while hiring flutter app developers:
● Required Experience
The right candidates should be able to show you a portfolio of apps built using flutter. It's their proof that they have the required experience to deliver high quality work
● Technical Expertise
Good flutter app developers need to know their way around the framework. They should be able to code well in Dart programming language.
● Soft Skills
Flutter apps development is not just about coding, it requires you to work with people. The right candidate should be good at communication and collaboration.
● Ability to Adapt
Flutter is an evolving framework, with new features being added regularly. The right candidate should be able to keep up with the latest changes in flutter and adopt them for your app development process
● The Right Motivation
The candidate should be able to understand your business needs and work towards the same.
Now that you're aware of the factors to consider, your next step is to find the right flutter app developers.
Where to find Flutter App Developers?
Freelancing Websites
One of the most widely used approaches is to post your hiring requirement on freelancing websites like Upwork, Toptal, etc.
You can find flutter app developers with skills required for your project on these websites. Even though this is a simple and effective way to find the right people, it's important to go through their reviews and portfolios before making a final hiring decision.
Ask for Referrals
Another widely used approach is to ask friends, family members or business associates for referrals. They might be able to refer you to some top notch flutter developers they have worked with in the past.
Online Communities
You can even look for flutter app developers near you on social media forums like Facebook groups, Reddit, etc. This process is tedious however, and then there's the issue of time – you might be investing a lot of it in looking for the right candidate.
Traditional Recruitment
You might also consider hiring a recruitment agency or head hunting firm to find you the right person. They have access to numerous profiles and they will help you save time. However, it will cost you more than the other options – so be prepared to burn some cash!
Hire Flutter app developers from a Development Company
The final option is to hire flutter app developers from an established app development agency. They have done all the necessary legwork for you and use a tested approach to hire the best app developers. All you need to do is tell them about your project and they will send you the profiles of relevant candidates. You can then shortlist them and conduct interviews to find your final hire.
They also offer a variety of other benefits like:
Assurance of quality work
Help with the entire development process
Technical support for your projects
Access to proven processes and methodologies
Cuts out the need for you to worry about recruitment and interview processes
Access to top notch flutter developers in a short span of time