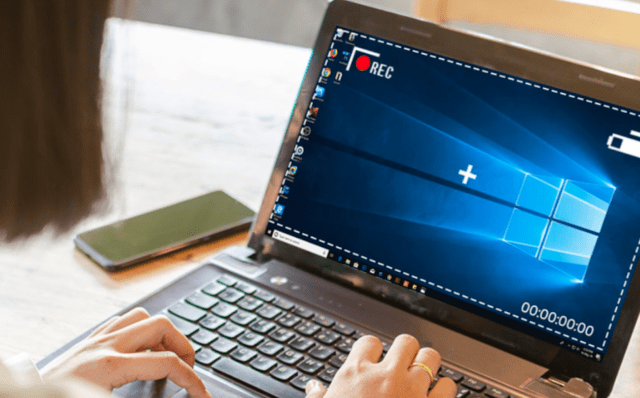 You must have heard about the Xbox Game Bar present in Windows 10, isn't it? Well, with Xbox Game Bar, recording a video can be done with any Windows app on your system. Many aspirants find this Windows 10 feature exclusively helpful, and they prefer to use it while recording a video. Windows 10 is popular for the gaming features available in the settings menu. Most importantly, recording the video is also quite easy, which is why they are highly preferred by people.
Recording Video with Xbox Game Bar
To start recording, open the app, but make sure that you are not using the entire desktop or file manager as it works only with regular apps. Click on the alphabet "G" and "Windows" key together, and a game bar dialogue will open. Click on the checkbox to open the game bar, and press "Win + Alt + R to start capturing the video. Press on the red button once the recording process is over.
With Xbox Game Bar, you can record videos effortlessly. If you not only want to record videos in Windows 10, after recording, you also wish to edit a video. In this aspect, you need to look for an alternative software that can edit a video. We recommend Wondershare DemoCreator- an all-in-one screen recorder and video editor.
Introducing Wondershare DemoCreator
If you are wishing to edit a video, you can opt for Wondershare DemoCreator. Not only that but with this exceptionally superb software, you can record a video also. The application is easy for you, and no technical training is required to use the application.
How to Record and Edit Video?
Recording and editing videos are easy with this software, and by simply following a few steps, you can do it. First of all, complete the downloading and installation process and run the .exe file. Once you are done, fix audio and video devices and start recording. Click on the "START" button, and the recording will start, and when it's done, either click on the "F10" or "STOP" button.
After that, edit the video using special options like trimming, deleting, adding audio, changing the audio, etc. Proceed to the review and watch the entire video, and if you find everything to be proper, do not forget to save the video. By doing this entire procedure, you can record and edit any number of videos you want for free.
Features
To know more about this software, it would be better to know its features. Consecutively, when you need to shoot a video next time, you can opt for this application directly. As a result, you do not need to keep changing the platform for recording and editing.
1.Screen Recording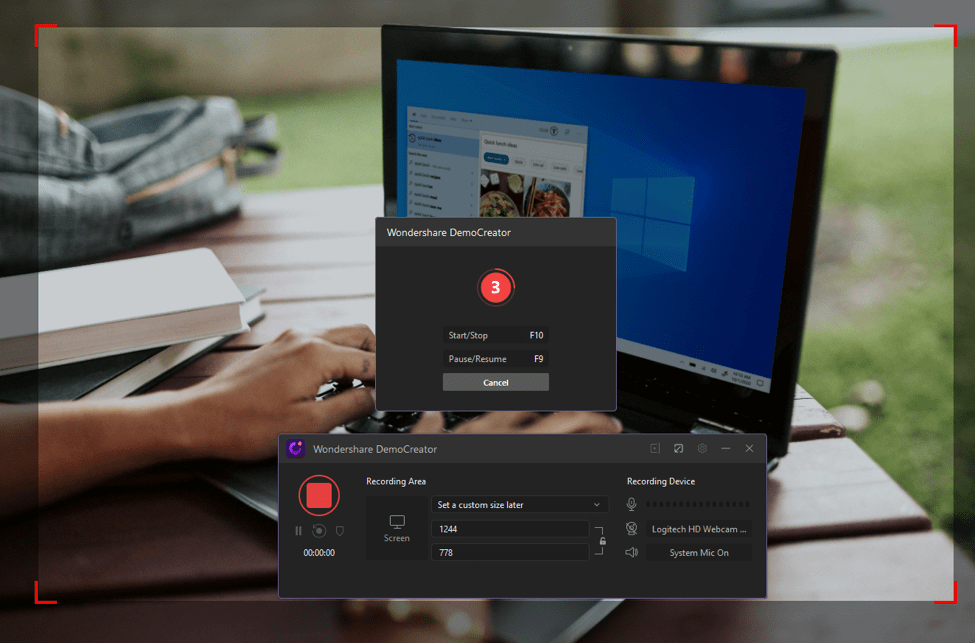 The screen recorder with internal audio feature helps you record both audio and video altogether. An aspirant shooting the video can select the screen area, either automatically or manually, depending on the requirement. There is no hard and fast rule that you need to maintain while recording the video.
2.File Saving
You might think that when there is so many video recording software, what is the specialty of an intelligent tool. Well, the answer is this application can save the video file in most common format as you want. Some of the formats you can save the file are WMV, MP4, MOV, AVI, MP3, GIF.
3.Video Effects
It is also an important function of the application, like a studio-like green screen, allowing you to crop, edit, background change, cinema, mosaic effects, etc. Well, you can try out different effects and finalize the best one that suits your recording. This feature entirely makes your video look so pleasing that you might not have thought of it.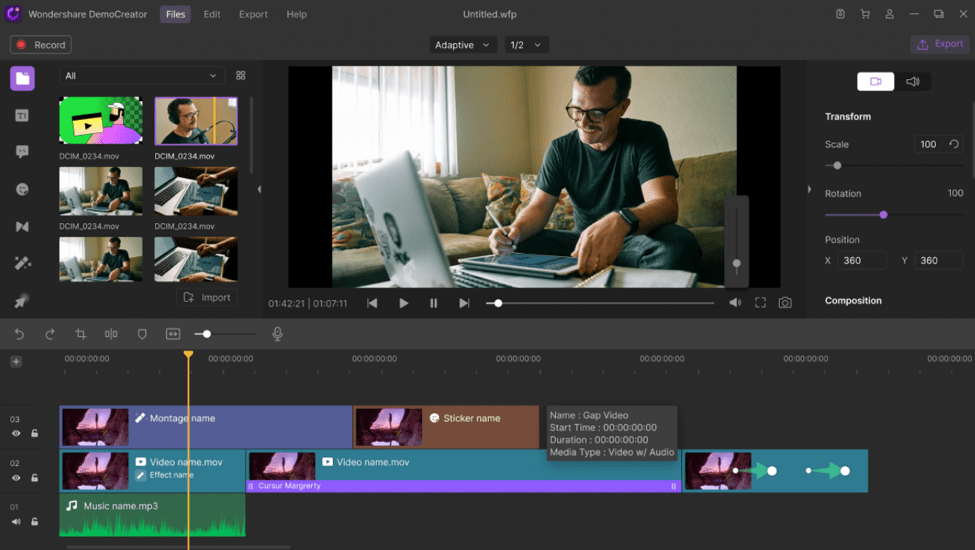 Suppose you are explaining a concept in a video, and for that, you need to enter some important information. You can add titles, openers, end-credits, subtitles, etc. according to your specification in this outstanding application.

As you know, the eminent software is popular for editing, allowing users to meet their specific demands. Most important, ample editing features are there using which you can make your video as you like.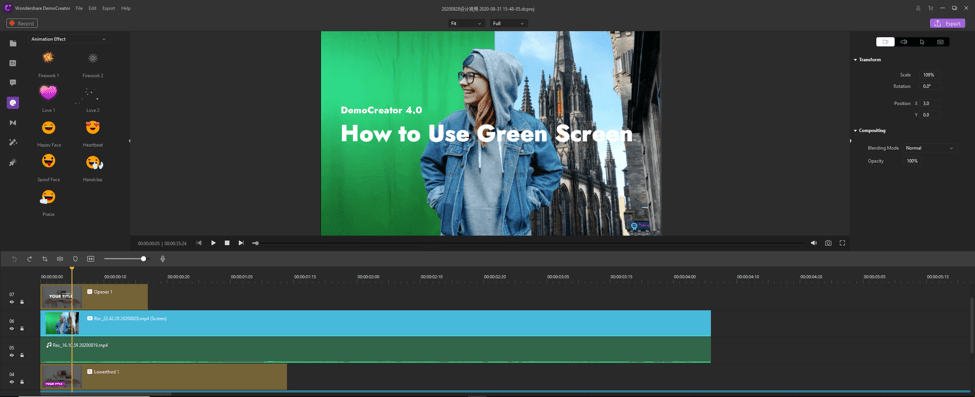 Sticker Effects and Options
Various sticker categories are also available like gesture effect, animation effect, game, background, social media, education, etc. You have the feasibility to add any of these effects to your videos and prepare it accordingly.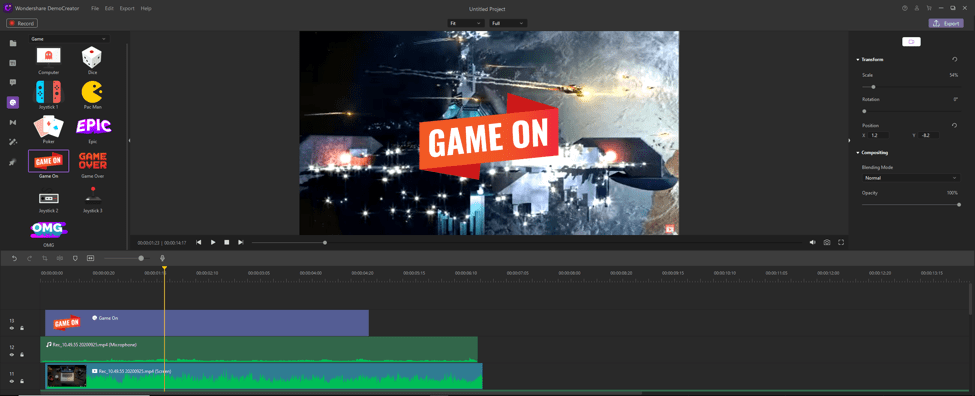 The cursor effect is a unique feature where you need to save the cursor data, featuring several highlights, sound effects, rings, etc. for its movement.
Final Thoughts!
Therefore, if you are looking for an exceptional software, Wondershare DemoCreator is an excellent choice. With free to download features and easy usage, you can effortlessly record and edit videos in the same application. Moreover, you can also split the video and merge the necessary parts to complete a video. It would be worthwhile if you think of using this software instead of Xbox Game Bar to record videos in Windows 10.