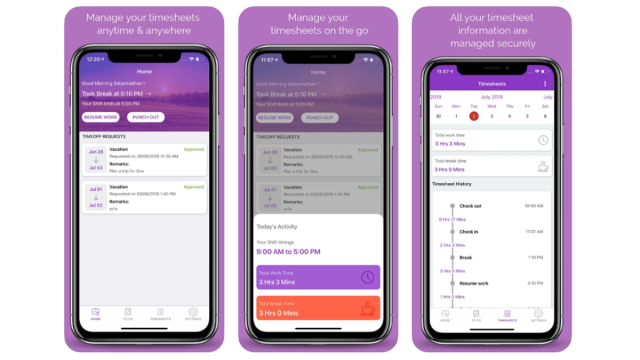 Zuper is a leading field service management software platform that offers one of the top time tracking apps for iPhone users that is a simple, yet robust timesheet management solution to track &manage field technicians' work with ease and accuracy. The Smart Geofencing feature automatically starts and stops the clock when you enter and leave a certain area. To ensure that users are working only the scheduled hours, the mobile application tracks activity at 15-minute increments, including idle time. Their FSM app also provides an easy way to manage employee time off.
With Zuper's iPhone time tracking app, the days of keeping track of time spent on projects by hand are over. Zuper makes it easy for you to keep track of working hours in the field and get paid accordingly. No more taking notes and keeping a running stack in your car. With Zuper, you can modernize your field service business and improve customer service.
The best part about the mobile time tracking app is that it's super easy to use. You will love how simple it is to use Zuper on the go and how easy it is to manage your team's schedules from anywhere.
Automate Field Service Technicians Timesheets
Many companies use paper timesheets for their field employees to track their daily hours manually. This can be a huge waste of time for the company and the employee because they both need to fill out paperwork instead of doing work that matters for the business.
With Zuper's iPhone time tracking app, field workers can automatically track their hours worked without filling out paperwork daily. The FSM time tracking app allows them to type in the start and end times of their workday, along with any additional notes about what they did during the day (e.g., "installed new firewall").
Smart Geofencing
When you enable geo-fencing, Zuper automatically records when your employee arrives and leaves a job site. You don't have to worry about forgetting to log their hours because Zuper does it for you! This makes creating accurate timesheets quick and easy. You can also set up automatic alerts so that if they're late or early by a certain amount of time, you'll get a notification on your phone.
Time-Off Management
One of Zuper's most valuable features is its ability to manage employees' paid time off (PTO). This feature allows employees to request PTO days directly from their mobile device, which makes things much easier for them and their managers (and eliminates some paperwork). This feature also allows scheduling of others to fill-in for the person utilizing time-off, so no clients or projects are missed.
Track Field Workers On iPhone
Field service technicians use their iPhones to record their work hours on-site at client locations. They can enter time against specific projects and tasks or just note that they were doing something specific (like installing cable) in the field. This field service app automatically tracks them based on GPS location, so we know exactly where they are — even if there's no cell service!
A Smarter Time Tracking App for iPhone Users
The Zuper tracking app for iPhone users is an intuitive tool that allows employees to record their time on different tasks. With just a few clicks and swipes, employees can record their activities and generate reports based on them (e.g., hourly rate). The reports can then be exported as PDFs or Microsoft Excel spreadsheets and sent out as invoices to customers or used internally at the company level (e.g., department manager).
Zuper's Time Tracking Solution
Zuper's employee time tracking solutions have revolutionized how field technicians capture and process their time. Time management is a big issue for many field workers, and by automating their timesheets, Zuper streamlines the entire process. If you want more information about how Zuper's field service management solutions can help your business, you can learn more about the many great features of their field service management app today.