The HTC One is undeniably a great phone, and rivals the iPhone 5 and Galaxy S4, but a recent rumour suggested that there was a HTC One Mini in the workings to offer to those who perhaps couldn't afford or didn't want a high-end handset.
The HTC One Mini rumour took a step forward today with leaked images confirming both its existance and what it looks like. Keeping in mind that everything about the HTC One Mini is yet to be confirmed, the images offer some proof to back up the claims.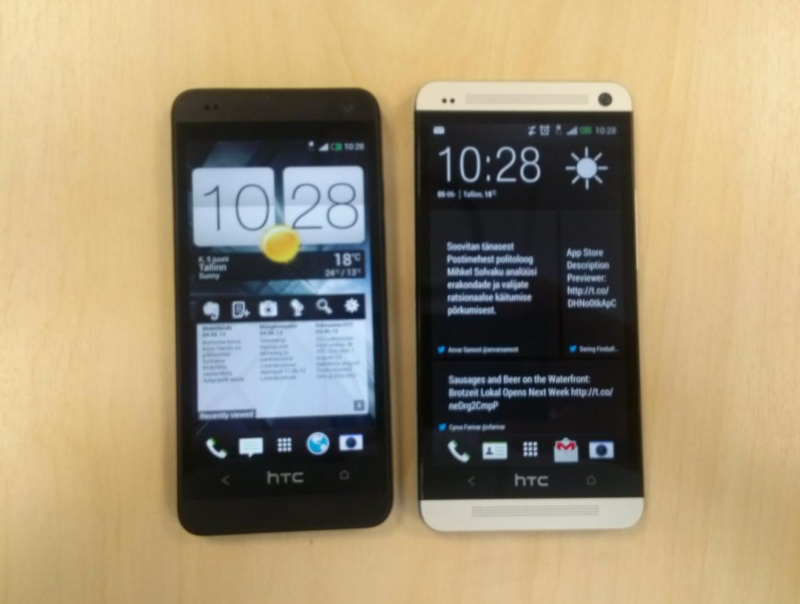 The images are from an source claiming the device will go on sale in August in Europe for around £260.
HTC One Mini Feasibility
The leaked images seen pretty legit, as usual leaked pictures are very mysterious, blurred, small, pinhole images that could easily be photoshopped. Whilst I'm not claiming this is 100% real and couldn't have been photoshopped, the image above clearly shows two devices with the correct shadowing etc. seemingly portraying the HTC One Mini.
With that said, the HTC One Mini shows off a 4.3-inch display encases in an aluminium unibody shell with narrow bezels and the same speaker grille setup seen on its big brother – the HTC One.
The attractive design is powered by a dual-core processor with 2GB of RAM and 16GB of storage with a 4-Megapixel UltraPixel camera. It'll run the same Sense UI found on the HTC One layered on top of Android 4.2 Jelly Bean.
As mentioned, the HTC One is a fantastic device, even if the sales numbers are lower than expected, so the HTC One Mini will bring the same high-end design and feel to a lower price point.
If the HTC One Mini is in fact a real device, this is definitely my next phone. What do you guys think? Let us know in the comments section below.