[googleplay url="https://play.google.com/store/apps/details?id=com.herocraft.game.icerage"]
Ice Rage is a frantic, rough and tumble Ice Hockey game designed from the ground up by HeroCraft for good old fashioned arcade style competitive game play.
With exciting offline multi player handled on one device, you can face friends in an ice hockey duel – one player and one keeper on each side. It's easy to see how Ice Rage has over 2 Milion users.
The three single-player game modes offered by Ice Rage are Quick Match, Tournament and Rage Off.
Quick Match allows you to jump straight into the thick of the action, against a computer, whilst Tournament pits you against a host of characters. After winning each match, you can upgrade your character's attributes. Rage Off allows you to face three tough opponents within quick succession, each harder than the last.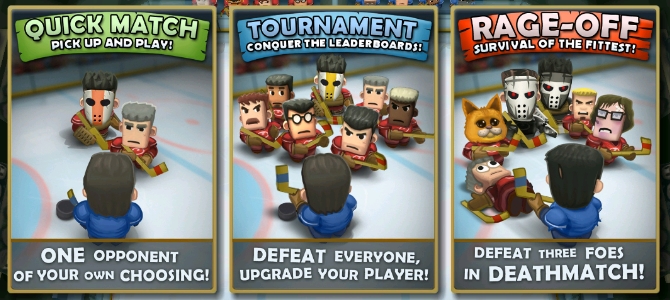 Hard Hitting Hockey Fun
Ice Rage brilliantly combines quick movement with fierce challenges both on and off the puck. You can utilize your skating skills to dodge tackles and knock your opponent over when they are in possession. The Keepers are generally quite good, and thus scoring a goal feels all the sweeter.
You can choose between a one-button system of game play, controlling your shots and challenges only, or opt for an on-screen control stick to manually dictate your characters movement throughout the match. Both control systems are responsive and well worked.
To shoot, you hold down the shoot button and keep it held for more power. You use your finger to direct the shot, and release at will.
With three levels of single player difficulty, there is plenty of hard hitting hockey fun to get through. Offline multi player can be played on one device, creating a tense, comical atmosphere thanks to Ice Rage's frantic game play.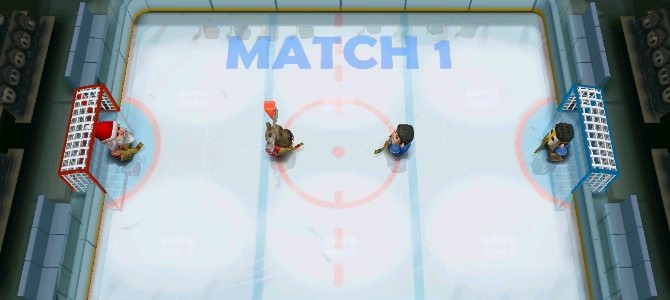 Cool Visuals & Friendly Charm
In terms of visuals, Ice Rage offers splendid 3D graphics, along with witty cartoon-esque characters and animations to give it a friendly charm. Ice Rages smooth game play certainly allows you to immerse yourself in the action.
Both the main menu and the in-game menu are easy to navigate, and the games various game play options are easy to find.
Ice Rage also implements suitable sound effects for in game actions. Shots and tackles feel powerful thanks to the game enhancing audio, which includes crowd roars and gasps during tense moments.
The different game modes each offer their own type of exciting twist to the already excellent game play. Mastering each one is difficult, which only adds to Ice Rage's addictiveness factor.
Final Remarks
Overall, Ice Rage offers excellent compelling game play with a unique fluidity. Matches quickly become intense and enthralling, making game play addictive. Seamless, tense multi player tops off a well designed hectic Hockey game which is not easy to put down.
Ice Rage is available from the Google Play Store for devices running Android 2.3 and up.