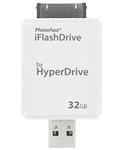 If you're like me, you're probably constantly running out of space on your iOS device. Rather than buying a whole new iOS device, check out the iFlashDrive by HyperDrive.
Once you've dragged-and-dropped files to the iFlashDrive, you can view them on your iOS device using the free iFlashDrive app which is available in the App Store for free.
The iFlashDrive app allows you to view media stored on the iFlashDrive, record audio and edit text. This application supports a wide variety of audio and video formats as well as Microsoft Office documents and a contact backup feature.
You're looking at $99.95 for the 8GB iFlashDrive, going up in $50 increments for double the storage capacity.
Overall, the iFlashDrive is a great solution if you're constantly running out of storage on your iOS device. If you own this product, let us know what you think in the comments.
Price: $99.95 – $199.95