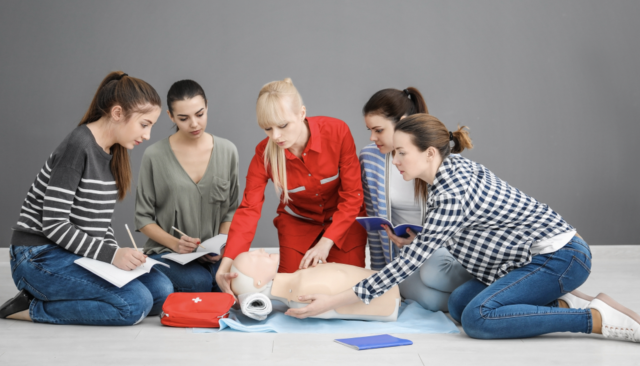 Nursing students and professionals have to witness multiple medical emergencies every day. Most already have the proper training to meet these emergencies in the area of their specialization. But CPR certification for nurses is different and vital.
Nurses can increase victims' chances of survival after earning their CPR course certification. Nurses are the first responders in and outside hospitals and medical institutions.
A nationally-accredited course teaches nursing students to give hands on care to patients to fasten their recovery. Learn the need for CPR training as a nurse below with more details and save lives when moments matter the most.
Importance of CPR Certification for Nurses:
CPR-certified nurses can fasten the recovery process. The Good Samaritan Law allows them to perform standard procedures on patients fighting for their life. With an accredited and updated curriculum on CPR, they can perform it effectively. There's more to know, that is:
Medical assistants gain more confidence
Online CPR training is critical for nurses. The visual instructions are easy to understand and follow in these courses. A rigorous and updated CPR training can train nursing students to participate in rescue missions actively.
It teaches nurses to remain calm in the face of a medical emergency
Newly appointed nurses feel anxious through their first operations and other medical cases. But doctors and medical professionals cannot afford any mistakes when lives are at stake. That is why CPR certification for nurses helps them become confident and calm in medical emergencies inside and outside of hospitals. 
Once certified, nursing students have clarity in mind and know how to perform CPR. They wouldn't be hesitant to give chest compressions during a crisis.
Nurses identify the difference between a cardiac arrest and a heart attack.
Cardiac arrest is entirely different from a heart attack. A patient having a heart attack need not need CPR. They might as well be talking and breathing when that happens.
The immediate course of action is to take the patient to the emergency ward.
Treating a cardiac arrest patient is different. They need immediate CPR within a couple of minutes. Otherwise, they can lose their life. A nursing student must identify these differences to save lives.
Nurses can perform CPR on anyone after the certification course.
After a CPR online course, nurses are eligible to perform CPR on adults, children and infants. They receive automated external defibrillator (AED) training to normalize the heartbeat.
The CPR course teaches how to perform it effectively on anyone, irrespective of their age.
Is It Mandatory For Nurses To Perform CPR?
The one who intervenes in the face of a medical emergency is almost like a hero. That is as long as they perform standard procedures. However, having a CPR certification is a safer option.
Nurses can save lives even when they are off-duty with factual knowledge about the procedure.
Conclusion:
CPR certification for nurses is essential for nursing students and practising nurses. They get to be a lifesaver instead of a bystander. Receiving training from a nationally-accepted and certified academy is important as well. This is a life-saving skill.
American Healthcare Academy is a trusted institution in the USA for offering comprehensive CPR courses for nurses. The AHCA certification course is valid for two years and is led by experts. Become a CPR-certified nurse today!