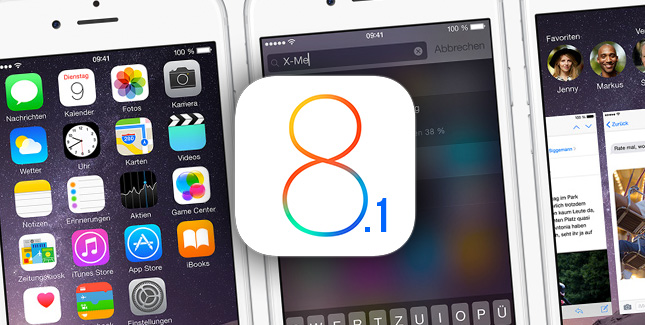 As promised, Apple's first major iOS 8 Update has shipped today and it's with features, fixes and, of course, the company game changing Apple Pay mobile payments system. What's new, fixed and/or exciting in iOS 8.1? Step inside, my friends, step inside.
Although iOS 8.1 is hugely important, the actual update file is quite modest in size — about 50MB for my iPad 3.
•Apple Pay support for iPhone 6 and iPhone 6 Plus (U.S. only)
• Photos includes new features, improvements and fixes
— Adds iCloud Photo Library as a beta service
— Adds Camera Roll album in Photos app and My Photo Stream album when iCloud Photo Library is not enabled
— Provides alerts when running low on space before capturing Time Lapse videos
•Messages includes new features, improvements and fixes
— Adds the ability for iPhone users to send and receive SMS and MMS text messages from their iPad and Mac
— Resolves an issue where search would sometimes not display results
— Fixes a bug that caused read messages to not be marked as read
Fixes issues with group messaging
•Resolves issues with Wi-Fi performance that could occur when connected to some base stations
• Fixes an issue that could prevent connections to Bluetooth hands-free devices
• Fixes bugs that could cause screen rotation to stop working
• Adds an option to select between 2G, 3G or LTE networks for cellular data
• Fixes an issue in Safari where videos would sometimes not play
•Adds AirDrop support for Passbook passes
• Adds an option to enable Dictation in Settings for Keyboards, separate from Siri
•Enables HealthKit apps to access data in the background
• Accessibility improvements and fixes
— Fixes an issue that prevented Guided Access from working properly
— Fixes a bug where VoiceOver would not work with 3rd party keyboards
— Improves stability and audio quality when using MFi Hearing Aids with iPhone 6 and iPhone 6 Plus
— Fixes an issue with VoiceOver where tone dialing would get stuck on a tone until dialing another number
— Improves reliability when using handwriting, Bluetooth keyboards and Braille displays with VoiceOver
• Fixes an issue that was preventing the use of OS X Caching Server for iOS updates
Some features may not be available for all countries or all areas
• When available info on Security Content will be posted here
Apple Pay: What, Where, Is It Safe!
Assuming you have an iPhone 6 or iPhone 6 Plus with iOS 8.1 installed and your credit card info input you can make mobile payments with at Apple Pay service include McDonald's, Apple Stores, Whole Foods, Walgreen, OpenTable, Staples, Panera and scores of other retail establishments with scores more regional and national chains expected by year's end. Additionally, America's three biggest credit card issuers — Visa, MasterCard, American Express — all participated, as do the nation's top banks (Citi, Chase, BofA, CapitalOne, Wells Fargo) with another 500 coming aboard over the next year.
What makes Apple Pay that simply swiping your card and then signing? With Apple Pay, retail stores can't lose your vital data to hackers because they never have your data. If Target and its customers had been using Apple Pay, BlackPOS would have captured zero data.
What about iPhone 5s owners, they have Touch ID, too? Apple Pay is always a big deal for online payments. Just set up Apple Pay with your credit info stored securely and then make purchases with just a tap of your thumb
As Steve Jobs liked to say, BOOM! Apple has once again made a dent in the universe…
What's your take?
Top Image: modmyi