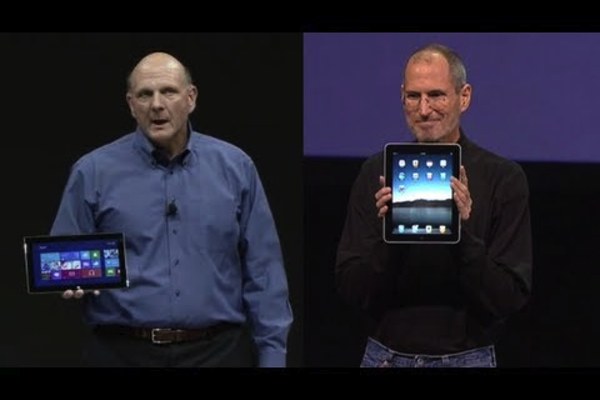 Pretty much everyone Microsoft's Surface RT marketing, especially their TV stuff, is really cool. However, the product just isn't clicking with consumers. Although nothing's certain until Microsoft delivers results, the early estimates clearly show the iPad vs Surface battle going in Apple's favor.
Microsoft began selling Surface RT tablets in late October. In support of that effort the company launch a $1-billion-plus marketing campaign — all of that clicking has creating something of a meme.
Consumers, however, haven't snapped to the Surface, of which UBS AG analyst Brent Thill estimates only 1 million sold in the holiday quarter. Thill halved his original estimate, saying "gloomy sentiment" dogs both Surface and Windows 8 adoption.
And, of course, he is right — see also Windows 8 Fail: 42% of Prospective Buyers Going Apple, Microsoft Surface Fail: Developers Shun Platform.
For what it's worth, KGI Securities analyst Ming-Chi Kuo is pegging iPad sales in the final quarter of 2012 at 23 million units. Of course, the wild cards for Apple are how many iPad minis sold and whether their smaller tablet was accretive or cannibalized sales, skimming off full-size iPad sales.
As always, it bears repeating that Microsoft plays the long game and the tablet market is still highly competitive and disruption is still possible. Nevertheless, the first inning of iPad vs Surface battle definitely goes to Apple…
What's your take?
image Parallels Blog