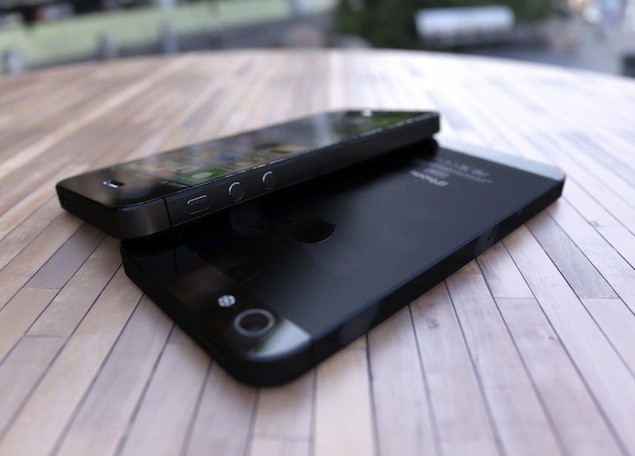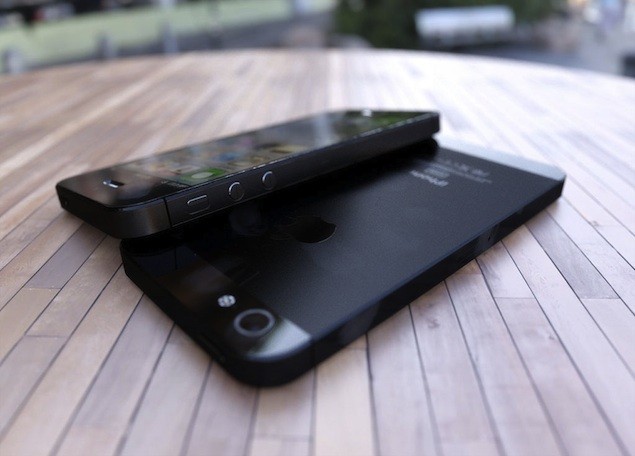 Over the past months, we've seen many creative designs by people and more leaks coming in daily about the design of the iPhone 5.
iPhone 5 externals 
Backing
While nothing is certain, it seems the new iPhone model will adopt a two shade design on the back, with a top and bottom curve.
Even though many were hoping for the transparent glass finish, it seems technology just isn't at a stage to provide this, or we would've seen Apple or another company flaunting the idea before now.
Again, as we have said, nothing is decisive, but more and more leaks reveal this type of design and while some may say it is coincidence, we believe it is a pattern.
On the photo above, it looks the black iPhone 5 has dimples to help users hold the phone – this would make us believe that the iPhone 5 is not going to be made out of hard industrial steel with a sleek touch coat, but instead of a rubber based product for easier grip.
Different Colours 
The iPhone is said to be coming in a range of industrial colours, as past generations have.
We are likely to see white and black as the two prominent colours – but we may also see a fully grey alternative.
As you know, Apple has always stuck to two colours on their models; it would be weird if they were to bring a grey alternative to the iPhone 5.
Display size
The screen was always contested to be larger, there was no way the iPhone 5 is going any smaller than 3.5-inches.
What we don't know is how large the iPhone 5 is actually going to be – we don't know if the next generation will go for something in the mid-range of what is on the markets today, or something a bit larger.
From all our leaks, we haven't seen the iPhone 5 surpass 4.7-inches in display, so we expect the iPhone 5 to have a display of 4.2/4.5-inches.
We are accustom to seeing Retina quality display on all Apple's products now, we will be shocked if they don't continue or even expand their display quality in the next generation iPhone.
Camera
The only thing we know for certain is that the iPhone 5 will definitely have a rear and front camera.
There have been rumours that Apple are working diligently to try and get their camera space much smaller, so it takes up less room on the iPhone.
Even though we haven't seen a huge difference in the size of the iPhone 5 in recent photos, as they add larger components to the iPhone, we didn't expect this to happen.
We believe the rear camera will be improved to 13-megapixels – not only because most new smartphones are having this size, but because as the iPhone grows, photos become more relevant as a service.
Achieving the best photo possible will be Apple's goal with the new camera, so we can hope to see better functionality and design on all floors.
The front camera may also have a huge boost in megapixels with the iPhone 5.
Due to FaceTime becoming more used, the front camera is becoming more relevant to the iPhone. The problem is the front camera still has very poor quality. We believe Apple will re-design the front camera to more than two megapixels, to add quality.
iPhone 5 internals 
Processor
We believe the iPhone 5 will be fitted with the A6 processor that has been rumoured vigorously over the last few days.
Even though many believe the iPhone 5 will have the A5X processor, it seems Apple is moving straight for a new generation of processors.
RAM
Analysts haven't really come up with a decisive conclusion to how much RAM will be on board the new iPhone 5.
While many debate that they may just add 1GB, we expect a tad more than just that.
Even though 1GB may be enough to run apps fast, we think Apple want users to have flawless speeds.
We understand that adding too much RAM is dangerous and can overthrow the entire machine, but two or three gigabytes of RAM is a suitable amount of will be powerful enough to run the iPhone 5 faster than any phone on the market.
NFC
There has been a wide variety of leaks that say NFC may or may not feature in the iPhone 5.
Truly, we don't see why Apple wouldn't want this new technology that allows easier mobile transactions, on their device.
Even though it isn't amazing yet, in the future upgrades we may see huge advantages for having NFC on-board your smartphone.
If Apple decide not to put this on, it is either because they have another similar product they think will fair better, or they are doing another anti-Flash campaign.
Battery 
We believe a 1440MaH battery will be fitted into the new iPhone 5.
Even though this isn't a huge amount of difference from the iPhone 4S, it is enough to give us 20-40% longer battery life.
The only problem is with 4G LTE, an A6 chip, oodles of RAM and higher-display; it may need more than just a little boost to actually add anything to the iPhone 5.
Storage
There are plenty of questions about storage, simply because it is such a wide variety of choice for Apple.
As the cloud storage option gets bigger, Apple may look to give users a good amount of that storage free instead of tons of solid state memory.
We may see an increase in solid state as well though; some are even going as far as 128GB's in internal storage for the new iPhone.
While this amount may be bogus, it is the next step up from 64GB's and if Apple is going to lead the field, they must add the biggest and best.