As the rumored September 12 release date draws nearer, more and more rumors about iPhone 5 features are starting to surface. Previously, we reported more "visual proof" that the iPhone 5 will most likely have a nano-sim card. Today, we've got even bigger news — a new iPhone 5 feature that could make or break the latest smartphone from Apple and decide the future of its technological empire…
Drum roll please…
Reports are coming in that the iPhone 5 will have a smaller Home button.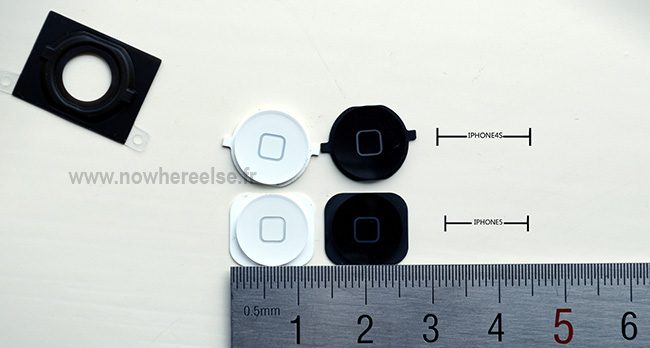 The pictures also come from NowhereElse, the same website that shared the leaked images of the iPhone 5's nano-sim card tray. While you'll probably need to squint and look at the image really close, you can tell that Apple has trimmed down some hardly noticeable millimeters from the Home button design
Why is that big news? Because this, combined with the report that the iPhone 5 will feature an even smaller sim card tray means that Apple is really trying to shrink everything and make the iPhone 5 as sexy as the other slimmed-down phones out there. All these rumored iPhone 5 features are pointing to a new iPhone where everything is smaller… Well, except for the screen. Reports are saying that it can be anywhere from 3.85 to 4 inches, but definitely a generous upgrade from the previous generation's 3.5 inch screen.
So basically, the iPhone 5 is going to be tall and slim. Just like a supermodel.
Didn't that update on iPhone 5 features make you even more excited about what to expect in September? Don't you just wish you can run to the nearest Apple store and grab the iPhone 5 now especially since we now know it will have a smaller home button?