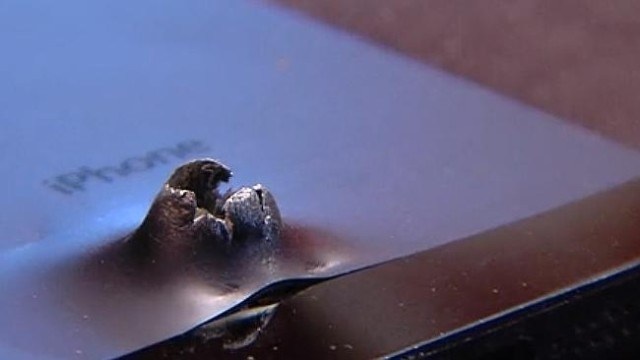 A long way from Utah. Sergeant Frank was on patrol in Afghanistan when he was approached by a teen wearing a suicide vest loaded with ball bearings. While he survived the attack intact, his iPhone 5 didn't because it took a round for its owner.
Salt Lake City's KSL TV has the story of Staff Sergeant Shaun Frank who had the good fortune to survive a suicide bomber attack. His still smiling face is brought to us in part by his iPhone 5, which prevented a ball bearing from tearing the American trooper a new one.
"My brother just saw the look in [the bomber's] eye and he knew he was there to hurt them," said Frank's sister, Alisha Lantz.
Sgt. Frank tried to fire first, but the boy was faster. The bomb, filled with metal ball bearings, exploded.
"My brother got several holes all over him," Lantz said, "through his thumb, through his fingers, through his hands and his legs."
The iPhone 5 in his left front pants pocket prevented a ball bearing from piercing his groin area, which is packed with critical nerves and arteries.
Apple Comes Through with New iPhone 5
Frank's iPhone 5 was covered by an extended AppleCare protection plan. However, in order to get a replacement from Apple, the company said, as per terms of the warranty, he had to surrender the dead one.
Frank chose to keep his damaged iPhone 5 as a memento and forgo the new unit. However, after a bit of public pleading, Apple decided to relent and provide Frank with a new iPhone 5 without taking back the one that saved his life.
All's well that ends well? Thank you, Sgt Frank for your service and, kudos Apple, for honoring his sacrifice…
What's your take?
Via TUAW