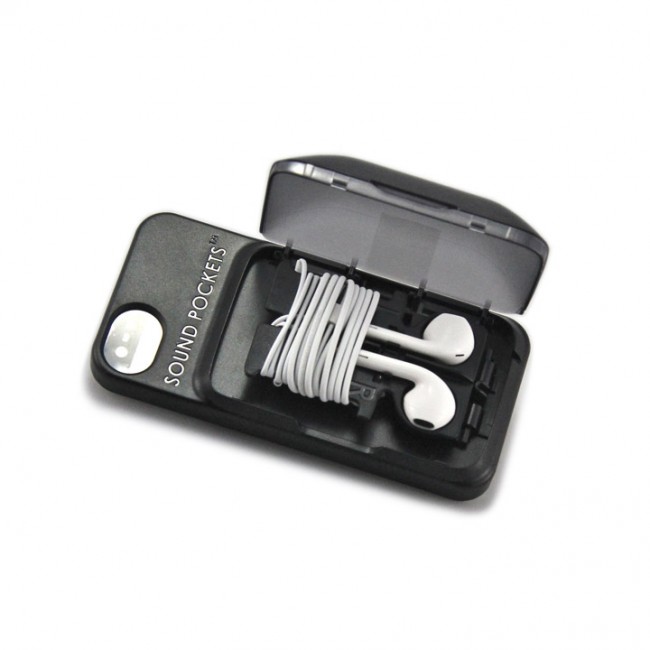 The Sound Pockets iPhone 5 "Freedom Case" in black comes from SoundPockets.com and retails for $29.95. If you're looking for a sleek, clever way to carry around your earbuds, this case may be just what you've been looking for.
As you can see in these pictures, the earbuds fit neatly in a rear pocket on the case. If you don't carry your earbuds all the time, you could conceivably slip a couple of bills back there instead.
The Freedom Case includes two earbud "caddies". One caddy is specially designed to fit your Apple earbuds that come with the iPhone 5, while the other is specially designed to fit Apple's In-Ear Headphones with Remote and Mic.
The case itself is good but obviously adds a lot of size to the back of your device. It is made of plastic, so won't be great at protecting your phone if you drop it (at least, as compared to a more rugged metal or rubber case.) However, this plastic construction does make it lightweight.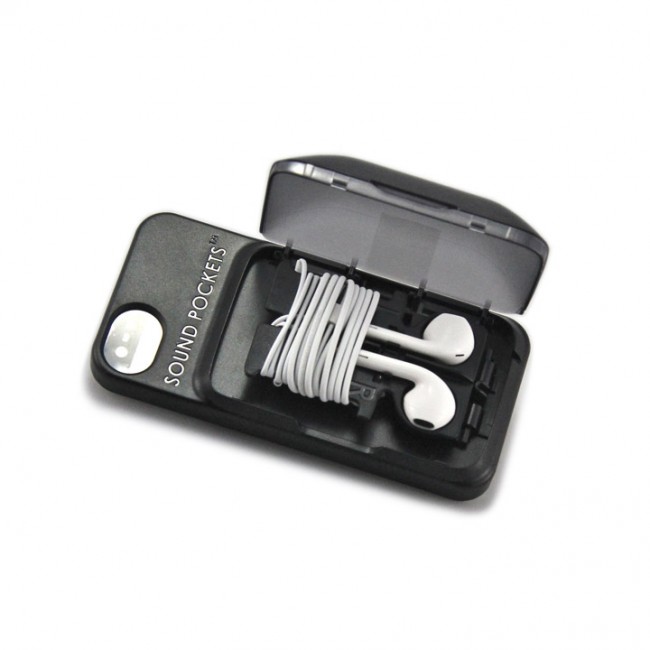 I would suggest it is more suited for women who want to keep their headphones untangled when putting their phone in their handbag, amid a pile of other items. The bulky back storage area makes the Freedom Case too big to fit in jeans pockets, but the size is fine for larger coat pockets or backpack pockets.
The storage area at the back makes it comfortable to hold in your hand. This case feels quite ergonomic. As a bonus, the rear compartment also acts as a horizontal stand. If you want to rest your phone in landscape mode and watch a slideshow or a movie, this accessory can help.
Everyone knows there is nothing more annoying than tangled headphones. Except maybe lost headphones. This Sound Pockets case helps you to keep your earbuds in good kit, and also prevents you from losing them.
Check out The Sound Pockets iPhone 5 case in black! Orders are expected to ship within four weeks.