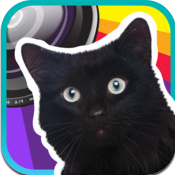 Price: Free Score: 7/10 Photo & Video
Cat Lover's Camera (iTunes link), developed by Milk Drinking Cow, is a great app for adding a touch of feline cuteness to your photos.
Designed with simplicity in mind, this free app allows users to impose adorable cats onto photos taken within the app. You can reposition the cat anywhere you want on your photo, giving you complete creative control over your images.
With eight cats to choose from, you're sure to find the perfect kitty for your picture. The main screen shows a variety of options such as camera controls, a useful help section, and a link to rate the app in the App Store.
However, be aware that you must purchase a $2.99 in-app upgrade in order to import photos from your library, add multiple cats into a photo, edit your photo after it is saved, and unlock 50 more cats. Also, in order to add cats to a photo in the free version of the app, you have to add and place the cat BEFORE you take the photo.
Cat Lover's Camera comes with integrated social sharing via Facebook, Flickr, e-mail, and Twitter. The app also gives you the option of joining Milk Drinking Cow's newsletter mailing list. This way you can receive updates from the developer.
I'm fairly disappointed with the fact that users need to pay for an upgrade in order to import photos from the phone's camera roll. Personally I have quite a few pictures which were already taken and would look awesome after adding a cute cat picture. Restricting this feature limits the functionality and capabilities of the app tremendously, possibly leading users to remove the app instead of purchasing the upgrade.
Cat Lover's Camera (iTunes Link) is compatible with iPhone, iPod touch, and iPad. Requires iOS 4.2 or later. A small expedite fee was paid by the developer to speed up the publication of this review.

Tech nut and aircraft pilot. Joined Tapscape as an iPhone app reviewer in 02/12.