[app url="https://itunes.apple.com/app/buff-knight-rpg-runner/id892298572?mt=8″]
2D platform games have been around since the dawn of time/MS-DOS, so whenever the internet lights up about a new one, I'm immediately skeptical. Buff Knight RPG Runner already boasts #1 in game sales in Korea and is fast becoming somewhat of a cult classic. Like some of you I've got impossibly high standards thanks to Commander Keen and anything involving plumbers, but this iPhone game was an entertaining surprise.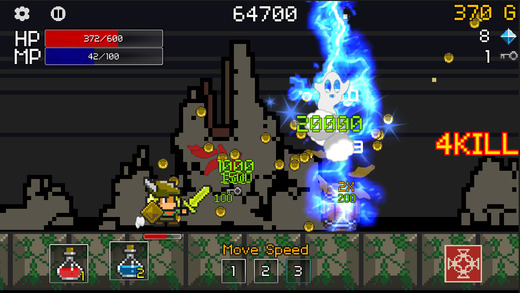 That Good Old Retro Feeling
First thing you notice is the retro pixel-type design. Buff Knight is a pretty standard endless runner with the story you've heard before: A dragon has attacked your kingdom and with his small claws somehow managed to carry away a princess and twenty precious artefacts. There's no time to stop and wonder how he carried them all of those out the door, though (probably a backpack).
As Buff Knight your quest is to smash through dungeons to reclaim the artefacts and save the princess. You don't actually control his movement – he runs along by himself while you madly tap the screen to cast spells and drink potions, smash pots and collect goodies from various cash grabs that float past. Sounds simple, but ploughing through bad guys efficiently is all about timing everything right.
An RPG Runner With Power-ups Galore
The game didn't really grab me in the first 5 minutes: I died a lot and wondered why it's been so popular. As the hero will tell you in-game, though, 'don't be afraid of death'. It gives you access to the shop, which boasts a huge range of power-ups and items to 'buff' up your knight. This is why it's called an RPG Runner. And just like an RPG, after each stock-up you're going to want to test out your new acquisitions. Immediately.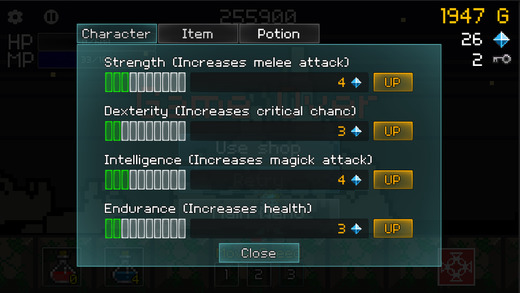 Buff Knight has charm in all the right places. It was created by solo developer Dohyoung Kimand you can see the work that's been put in. Animations are responsive, colourful and well designed. The game flows effortlessly with just the right amount of challenge and reward. And thankfully for the Unreal Tournament fanboy inside me, the point system is great and combo kills highly satisfying.
Despite the simple concept being a reason for the game's addictive nature, it also means the playing experience doesn't really change past the first ten minutes. If you want variety, you may need to look elsewhere. Having said that though, there are enough incentives to keep you hacking away at the 'grind' to progress through story mode.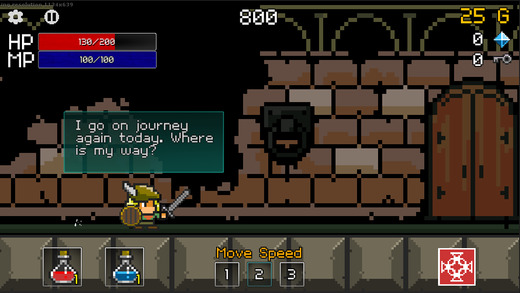 The free version has in-game ads and a few in-game requests to support the developer, but they're respectful and don't impede on gameplay.
An iPhone Game You Won't Want To Put Down
It's easy to see why Buff Knight is becoming a flappy bird type cult classic in Asia. I don't usually get addicted to platform games but the elaborate in-game store mixed with simple gameplay had me stocking up and hitting 'try again' over and over. The developers hold competitions for high scores, and at time of writing the current champion took 20 minutes to complete a level. I took an hour and a half. If I can just afford to buy that next sword though…
Buff Knight Runner RPG requires iOS 4.3 or later and is compatible with iPhone, iPad, and iPod touch. This app is optimized for iPhone 5.