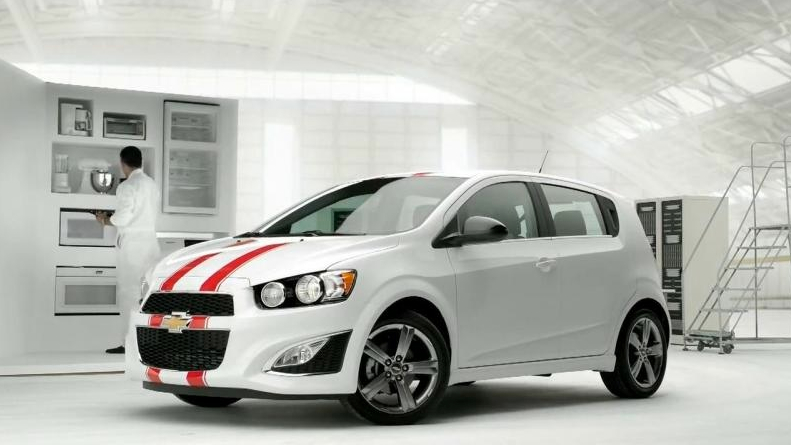 Last Thursday, VH1 started airing a new ad for Chevy touting the Sonic compact's Eyes-Free Siri integration, making the Detroit-based company the first carmaker to advertise the new feature.
And advertise they have.
According to Sean Muller, CEO and founder ofiSpot.tv, the commercial made its debut during VH1's morningJump Startprogramming block and has been shown more than 80 times on television networks across the country.
The ad (titled "Buttons") shows a young, cool twentysomething woman as she makes use of the steering wheel's dedicated Siri button to access the virtual assistant. With Siri, the woman is able to check her text messages and then request a joke all while driving around a stark white testing area that inspires comparison to Apple's minimalistic visual cues.
During the opening keynote of Apple's 2012 Worldwide Developer's Conference, the company announced the initiative to put Siri into automobiles. The move will allow drivers the ability to use select phone features like sending text messages, making phone calls, or playing music by voice command alone. With Eyes-Free Siri integration, the iPhone's screen will remain off to keep from being a distraction, allowing drivers to stay focused on the road.
Chevrolet (a General Motors brand) is just one of nine automakers Apple has committed to include Siri integration. Mercedes-Benz, Toyota, Honda, Audi, Land Rover, BMW, Jaguar, and Chrysler have agreed to the initiative as well. Last month, Chevrolet became the first American car manufacturer out of the gate to make Siri integration available. The Sonic and the slightly smaller Spark are the first of Chevy's models to include the functionality.
For auto companies, the built-in ability to use Siri is seen as a potential draw for younger or more tech-savvy drivers. Rather than having to purchase a higher-end vehicle with an often pricy navigation or tech package, buyers can consider more affordable models like the Sonic that are able to leverage the features included in Apple's smartphones.
Things like iOS 6's turn-by-turn directionsor the ability to communicate via text or iMessages are both big draws for drivers today. The carmakers who have agreed to include the option for Siri hope that the move will help spur sales of newer models.
For the Spark and Sonic, integration with the iPhone is made possible through Chevy's MyLink infotainment system, which is currently available on 2013's LTZ and RS models. In order to access the Siri integration feature, drivers' iPhones must be either a 4S or 5 model running at least iOS 6.0.