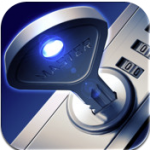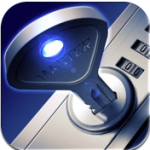 Price: $4.99 Ranking: 9/10 Category: Productivity
As hackers become more adroit and password fields require increasingly sophisticated unbreakable passwords, it's practically impossible to keep all your logins straight. That's why Master Key was invented.
The AES256 algorithm encrypted app keeps keeps everything from passwords to card numbers secure in one simple place. Best of all, that place is straight forward and easy to use.
By default, Master Key holds the information for a few dummy default entries like a Google login, credit card, social security number, and more. These sample entries give app users a feel for Master Key's capabilities, as well as provides a template for the way everything is laid out.
Navigating the silver interface of Master Key requires no tutorial, and with a minute or two of exploration, the entire app becomes entirely clear. The edit button on the upper menu opens up information fields so users can add usernames, passwords, credit card numbers, secret codes, and more. In some cases preexisting template entries that take care of standard details are enough to suffice, but when you need a custom field, Master Key makes the creation of that field as simple as a single tap.
After an entry is saved it appears in a specified category like Financial, General, Health, School, Travel, or Work, but even the categories are 100% customizable.
When it comes to entering the actual password for Master Key, there's a dreamy, futuristic keypad to fit the task. This numbered keypad operates both as a traditional keypad and a set of numbers where a systematic path can be traced to create a password. Best of all, there's a touch sensitive fingerprint tracker along the bottom that feels extremely high tech. Master Key doesn't detect your actual fingerprint, but it can detect the nature of your touch, swipe, or other movement.
For those worried about a malicious party getting ahold of your iPhone, one of the app's main settings lets users wipe all the information in the app on a certain number of failed login attempts. This wipe option is incredibly powerful, but this security feature is complimented with a Master Key password recovery that links up with Dropbox.
This Dropbox feature is designed to give users peace of mind in case they forget the password that holds the key to everything else, but I can't help but wonder if Dropbox excels on the security front. Also, I would love to be able to take regular notes and store them on Master Key.
Despite those two small thoughts, Master Key operates exactly as expected, if not better. Extra precautions like automatic password lock resets your password entry if your phone goes into sleep mode while the app is open, and automatic password hiding that makes account passwords visible only at the exact moment they are required. If there's a better password storing app for the iPhone, I haven't seen it.
Bottom Line: When information needs to be kept safe, the full featured, well designed Master Key app keeps all your account info under lock and key.