If you often travel, go camping or are just out with your iPhone, iPad or other mobile device, you have probably run into a situation where you need to charge your gadgets but are without an outlet. The only way to avoid this type of situation is to carry a backup battery, like the myCharge 6000.
The myCharge 6000 is a 6000mAh rechargeable battery which can charge an average smartphone four times. It has a built-in Apple 30-pin connector as well as mini and microUSB cables, allowing you to charge a wide variety of devices. The myCharge Power Bank also has a built-in USB port which can charge your iPad, Kindle Fire or other tablet.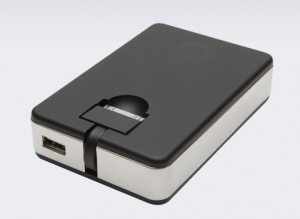 The battery itself is designed well with a soft touch finish.  While the Power Bank is a bit large, this is acceptable because of the large capacity battery. On the sides of the device you will see a power switch and status indicator which shows how much juice is left in the Power Bank.
To charge your gadgets, flick the power switch into the "on" position and plug in your devices. Your gadgets will now charge until the Power Bank dies or you unplug your device. Because of the Power Bank's large size, it's hard to actually use your devices while they're charging. I would like to see the included charging cables be a little longer so I can continue to use my iPhone while it's charging on the table via the Power Bank 6000. To charge the Power Bank itself simply plug it into your computer or USB wall adapter with the included MicroUSB cable; this takes approximately 45 minutes.
Overall, the myCharge Power Bank is a perfect choice for anyone in the market for a dependable long lasting backup battery. This battery will last you for days on end if you're charging your iPhone and is a definite life saver when you need it. The Power Pack 6000 retails for $99.99, which is a little steep, and can be purchased via myCharge's website. Happy charging!
Disclosure: myCharge kindly sent out this review unit free of charge.