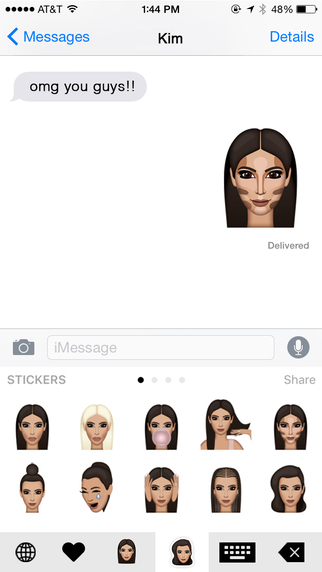 Why Kimoji?
As the name eloquently implies, Kimoji is an app built around emojis. The icon pack is added directly to your main iPhone keyboard, and truly allows you to convey some gut-wrenching emotions — I have a huge butt, or my pants are round my ankles, for example.
This aside, Kimoji is horribly overpriced, buggy, and just not very useful. What little fun you can have with it — namely trolling and/or joking around — isn't something that is worth the price of admission.
Utility
Kimoji is an extension of the built in emojis you can use on your iOS device. The various hairstyle, food and buttock icons are added to your keyboard selector, and these can be used across messengers such as Facebook, WhatsApp and iMessage.
And that's really it. This is very much a surface level app, with no extra features, options menus or added bonuses of any kind. Granted, the various new emojis you do get are wildly different from anything else currently on your keyboard, but at the same time, they have a very specific audience — die hard fans of Miss Kardashian herself. To the rest of us, and to myself, they mostly just appear to objectify the female form.
Interface
If you've used an Apple device for any period of time, you'll probably be well versed with the layout of Kimoji. It's simple and effective, with all the emoticons laid out over a number of menus, each of which are accessible by scrolling right or left.
However, this system loses points when it comes to dropping the emoticons into your message. On a typical iOS emoji board, you tap on an icon and it's added to your body of text instantly. In Kimoji, you have to tap on your chosen picture, tap the correct place in your text, then tap paste.
What is a one-step process for pre-installed emojis becomes a three-step process for the Kardashian themed ones, and I can't help but wonder why the developer chose to go down this route.
People like to use their smartphones as quickly as possible, and any fat needs to be cut — it may seem whiney to complain about something so trivial, but anything that detracts from the experience needs addressing.
Ease-of-Use
Aside from these extraneous steps, Kimoji has several glitches that frequently make it unusable. Where the icons would usually be displayed, I was often greeted with a blank, empty space. Sometimes, I would attempt to scroll through the icons, only to have the keyboard freeze and not scroll at all.
If the app didn't cost me anything, I might have been more forgiving — but at £1.49, it's asinine to even consider putting your money down when the product isn't very reliable.
I did appreciate the inclusion of an easy to digest installation guide, as I'd actually forgotten where the keyboard menu was located — but this is the very least I'd expect of an app that relies on this functionality.
Final Thoughts
Kimoji has a very specific audience, and it's not the 99 percent. Unless you want to send cartoon breasts, lips or hairstyles to your friends — when it works properly — don't bother spending your money. If you do, not only will you download a poor app — you may just break the Apple store.
Tested On: iPhone 6S iOS 9.2.
Kimoji on iOS requires iOS 8.0 or later and is compatible with iPhone, iPad and iPod touch.
[appbox appstore https://itunes.apple.com/us/app/kimoji/id1068019093?mt=8]