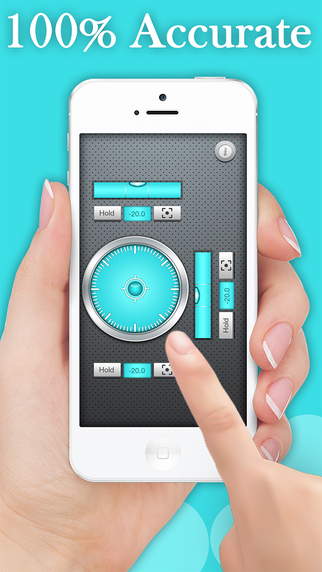 Why Level Tool Advanced?
Level Tool Advanced is a spirit level app for iOS you can use to measure how flat a surface is. Besides its sleek presentation, its a great download because whenever you need it, it loads fast, is simple to use and has no superfluous features. Its an invaluable addition to any device.
Utility
Whether you're putting up a shelf, sanding a wall or you just want to mess around and see how flat your arm is, Level Tool Advanced has you covered — and that's really it. Yes, it only has one use, but this fact shouldn't be a surprise and isn't really a negative — it's just the nature of the app.
When you first boot it up, you'll calibrate it for horizontal, vertical and face up positions – then you're good to go. You can push the hold button to lock the reading, and even view the pitch tool, with ease. No messing about with useless features or menus, no fiddling to get things done — it just works.
That being said… it would've been nice to see just a couple more options. The ability to change the color of buttons would be great (white text on light blue is very difficult to read). Other than that, there are absolutely no usability problems with Level Tool Advanced — it does exactly what it says on the tin.
Interface
Thankfully, the coloring issue is the only interface problem. Everything else is smooth, accessible and well laid out. There is a banner ad along the bottom of the screen, which you can pay to remove — but it's not distracting and won't affect how you use the app. The electric blue and chrome steel color palate is also extremely cool, not least because it made me feel a little bit like Iron Man, but because it draws your attention to what you need to see.
Ease-of-Use
Level Tool Advanced is very easy to use, partly because it's pretty self explanatory. The very first thing you see upon loading are the instructions — five short sentences that concisely summarize everything you need to know. Even if this is the first time you've used an app like this, you shouldn't have a problem figuring out what to do — an invaluable trait of any mobile tool, which will surely need to be used quickly at anytime and any place.
Final Thoughts
Level Tool Advanced is a solid app that does everything it sets out to do, and is a great addition to any device — this is one to have tucked away for a time of need!
Tested On: iPhone 6S. Level Tool Advanced requires iOS 8.0 or later and is compatible with iPhone, iPad and iPod touch.
[appbox appstore https://itunes.apple.com/us/app/level-tool-advanced-bubble/id1017395915?mt=8]