Top Luxury Cases for the iPhone X – Best Selling (2018)
If you are searching for luxury cases for the iPhone X, then you will surely love to buy one of these! We at Tapscape have listed the best selling and most demanding luxury cases for the iPhone X. Whether you are in need of a luxury leather case or q luxury ultra-thin case, we have listed them all!
To make it easier for you, we have categorized each luxury case in the correct order by sorting them by the number of units sold in the last few months.
Each of the following luxury cases comes with 30 days money back guarantee, with free express shipping worldwide! That's right, whether you are in the US, UK or Australia, you will receive these cases within 7 days.
Ultra-Thin Luxury Case with 360 Degree full protection for the iPhone X – $28.95
If you love a luxury case that is ultra-thin and super slim, we recommend you go for this case as you won't find any better. This case comes with 360 Degree protection, which means your screen would be protected with this case too! According to the selling company named "Wishify", this luxurious case has been sold to over 3 million iPhone X users worldwide.
Hate the red color? Don't worry! This luxury case comes in black, purple, gold and rose gold too! You can buy this case for only $28.95 USD.
Luxury Leather Case for the iPhone X – $28.95

If you are always in need of a phone stand for your phone, this case would be just right for you. This luxury leather case has a phone stand and a cardholder. Therefore, with this case, you no longer need to carry your cardholders or phone stand while going out.
This luxury leather case also has a magnetic cover, which would keep your iPhone X screen protected all times. The case is available in brown, black, blue and red colors. Wishify reported that this case has been sold to over 1 million iPhone X users. The cover case costs only $28.95 USD.
Genuine Leather Luxury Wallet Case Bag with Kickstand – $48.95
If you are fed up with carrying your wallet around with your iPhone X device, then this case is the one! This luxury case is made of genuine leather, with a kickstand and many card pockets. So basically, it's a wallet case that allows you to keep your cards, cash and your iPhone X altogether.
According to it's sellers "CaseCovers", 1 million iPhone X device owners have bought this case. You can buy this luxury case for $48.95 USD. The case is available in Black, Blue, Red, Brown, Gray, and Pink colored leather.
Luxury Flip Wallet Case with Kickstand – $28.95 USD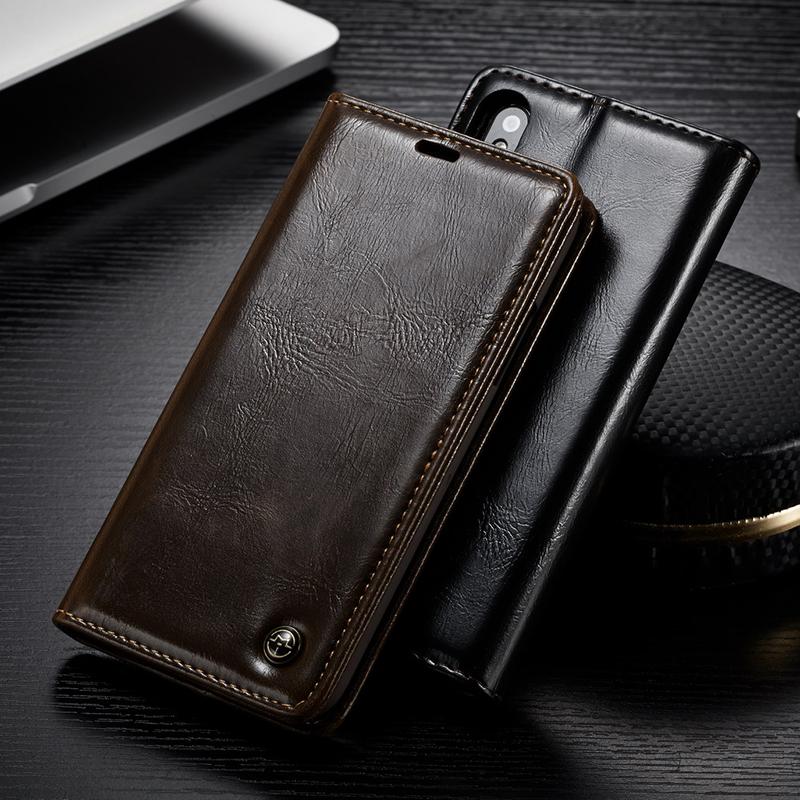 This luxury flip wallet case is made of PU leather. The case is designed to have a kickstand to help your iPhone X stand while your hands are busy eating fries when skyping with a loved one, card pockets to keep all your important cards together, and a hidden cash pocket to keep your dollar notes in.
CaseCovers has claimed that over 800,000 people in the US and UK have purchased this case since the iPhone X was released.
We hope the luxury cases that we listed for the iPhone X matches your taste. If not, you might want to bookmark this page and check back again as we are still working on this article. All luxury cases that we listed for the iPhone X in this article are from the suppliers.
If you are looking forward to buying any of these cases, you can simply hit the orange "BUY NOW" button, choose the color you like, hit "Add to cart" button and it would ask for the shipping address followed by a payment method page. As the payment is processed, each of the suppliers will send out an email to you regarding the order confirmation.