DigiTimes reports that Apple has informed Taiwan-based suppliers that both the MacBook Pro and MacBook Air series will see revisions in June 2013, bringing new processors and retina displays across the lineup, without any physical design changes.
The sources pointed out that the MacBook Air for 2013 will feature a new processor platform, but its industrial design will not see any major changes.
The report also details how Ultrabook manufacturers are pre-empting a price-drop on existing MacBook models before the release of the newer retina models, making competing with Apple's hardware even more difficult. This move would be very unlike Apple in their laptop lineup, in an approach that brings familiar actions to what we have seen in the iPad product; with Apple reducing the price of an older model to make room for a newer version at the standard price-point.
Also mentioned in the report are the estimations for the production and shipping numbers of the new MacBook's and good news for consumers, it seems there will not be as much demand and therefore less stock shortages as previously seen in the most recent Apple product launches.
The sources estimated that MacBook series total shipments in 2013 will reach 17 million units, but sales may not reach a similar level. Apple sold 12.88 million MacBook products in 2011 and 9.78 million units in the first three quarters of 2012.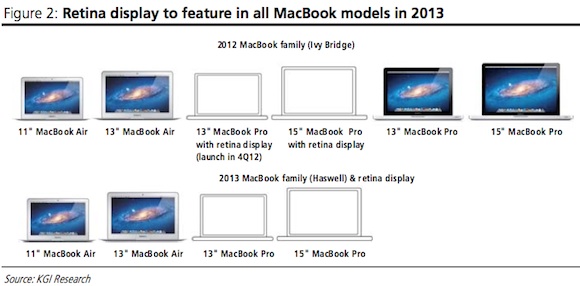 The above graphic shows Analyst Ming-Chi Kuo's prediction for Apple's 2013 plans. The prediction in the top-half of the graphic has already come true, with Kuo predicting the lineup will be consolidated back into a single MacBook line with the introduction of retina displays to their entire hardware portfolio. The new MacBook line will also use Intel's new Haswell chips which are expected between March and June 2013. Haswell will incorporate CPU performance boosts as well as double the performance of the integrated GPU, which would be helpful if Apple does incorporate Retina Displays across the entire MacBook line in 2013.