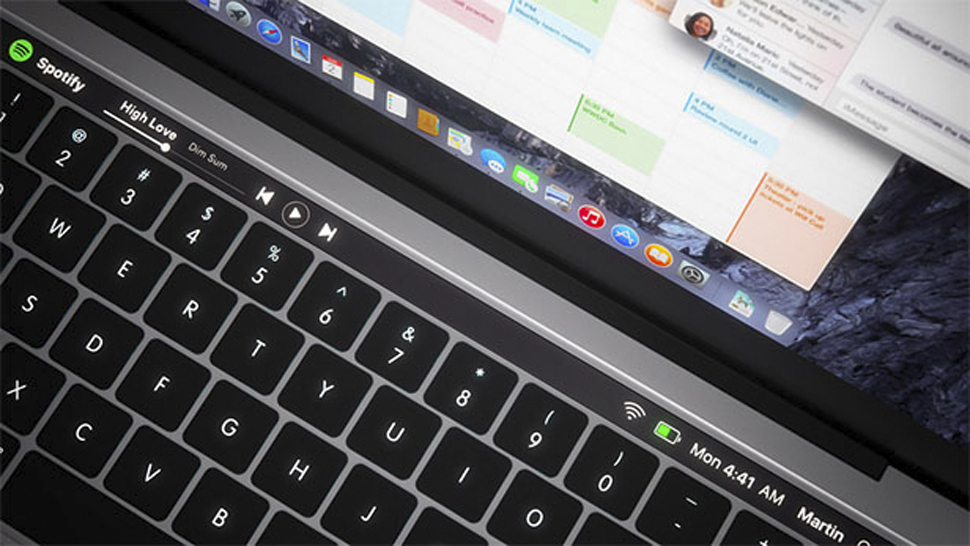 Currently, there is no clear date when Apple's MacBook Pro 2016 family is going to arrive but a possible announcement date is looking to be held during the third quarter of this year. The notebook lineup will have several elements that are not going to be present in the previous families and one of them is undoubtedly going to be the OLED display bar that is going to be present on top of the physical keys.
Pocket-Lint managed to show off a MacBook Pro 2016 concept gallery where you can see that nearly everything about the laptop has been changed, especially the part where we will be seeing a thinner notebook. The keys will have a smaller travel, suggesting that the company will employ a butterfly keyboard layout, which will definitely take some getting used to. However, if you happen to upgrade from a 12-inch MacBook to this one, then you will find this as a significantly better experience since the keys on a MacBook Pro will naturally have more travel than the ultra-thin 12-inch MacBook.
One of the distinctive features of the upcoming MacBook Pro 2016 family will be a myriad number of USB-C ports. Where a 12-inch MacBook only has a single USB-C port, the upcoming MacBook Pro has been reported to feature four of them, and they will be able to charge multiple devices at the same time as well as transfer data at a faster rate. With a MacBook Pro always coming with PCIe type storage, those data transfer rates are always expected to have a high read and write speed.
The upcoming notebooks are expected to arrive in the 13.3 and 15.4-inch screen sizes, where the latter will feature i7 processors, while the smaller ones will feature Core i5 chips belonging to Intel's Skylake architecture. For the moment, take a glance at this gallery and drool at the tiny details.