People who use iOS software are well aware of the difficulties faced by them daily. Due to the software, transferring any file from one device or the other becomes quite hectic. To solve this major issue, Electronic Team introduced MacDroid to the world. The app's name is clue enough to guess the nature of the app, with the help of the app files, photos, or any other document could be transferred in an instant. As declared by the mother company, the main aim of the app is to bridge the gap between Android users and the world of iOS users.
FEATURES OF THE APP
Some of the basic features of the app are listed below:
The app is primarily used to transfer files from Android and iOS and vice versa.
The application can be mounted in the external storage system of the device, all internal storage. This provides the user with a choice, which is not provided by other softwares.
The app allows the user to transfer videos within the shortest .period
With the help of this app, the user can cut downtime and work at a faster pace.
It also helps to watch videos and edit them offline.
Certain options are only available to Mac users; this app saves effort and time by editing it in the iOS app and transferring it to the android device.
There is a mode called the pro mode. The customer has to pay a fee to have access to the pro model. This mode provides the user with regular updates so that the software functions properly.
HOW TO TRANSFER THE FILE FROM ANDROID TO MAC
The process of android file transfer, photos, and videos are quite easy. The steps are provided below:
First, the USB port on both devices must transfer the files from one device to the other. Check if the USB port has a proper connection. If not, it will hamper the file transfer process.
Set MacDroid to MTP
The phone will receive an alert requesting access.
Choose the option "file Transfer."
The user will receive a message, which states that both the devices are successfully connected.
There will be a taskbar on the left side of the interface where the android device will be displayed.
This phase also allows the user to personalize the software and alter the name of the device.
The device will be mounted. Make a note of the fact that until the device is mounted, no file transfer will happen.
After being mounted, one can easily transfer a file, photos, documents, videos, and many more from one device to another without any added hassle.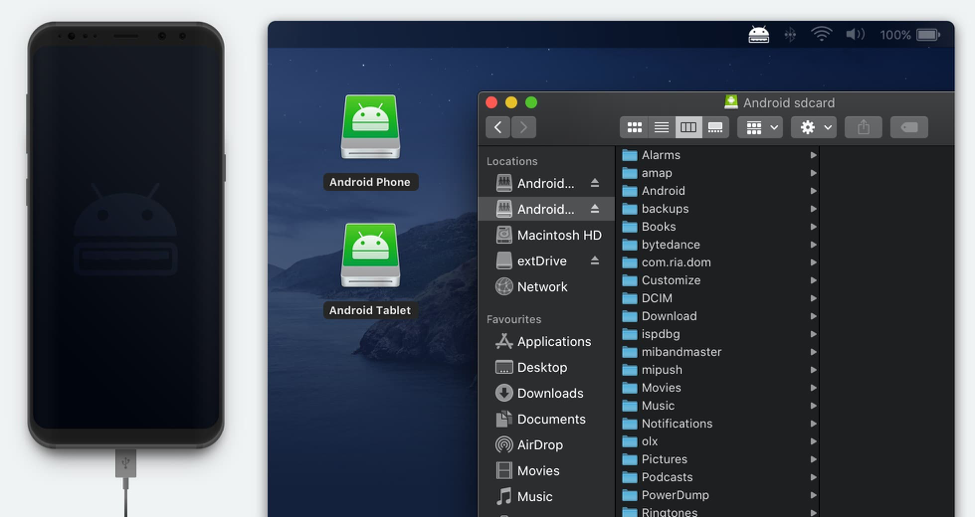 CONCLUSION
As promised by the mother company, the app surely diminishes the distance between android and mac users by helping them access and transfer the files. The android file transfer alternative is easily available on the internet. People who are keen can download the app from the official website.