Major Differences Between ITIL v3 and ITIL v4
Technology is ever-evolving, and with it, IT processes are continually upgrading and reforming to adapt to the industry norms and standards. Businesses nowadays require and generate massive amounts of data, which further complicates digital data management challenges. Hence, companies need to keep themselves updated with the latest technology trends. It is also imperative that IT professionals acquaint themselves with the latest skills and technologies to stay relevant in the market. In this regard, one of the most sought-after certifications is ITIL Certification.
The ITIL Foundation training is advantageous to both the organization and the individual. It delivers much-needed knowledge and expertise to IT professionals to structure and implement a customized IT service management strategy.
A Career in IT Service and Management
Before you sign up for the ITIL Foundation training, you must have the fundamental knowledge of what entails a career in IT Service and Management or ITSM.
To begin with, IT Service and Management is a field that offers several ways to build a career. Jobs usually vary between employers, but the skills required are similar for a specific job position. The IT Service and Management career path is classified on four fundamental differentiators, and each has several job roles. So, here is a brief compilation of the different positions in the IT Service and Management field:
1. Service Strategy and Design
Business Relationship Manager
Service Level Manager
IT Security Architect
IT Architect
Supplier Relationship Manager
Business Continuity Manager
2. Service Transition
IT Change Manager
Release Manager
IT Configuration Manager
3. Service Operation
Service Desk Technician
Service Desk Manager
IT Support Technician
Hardware Support Specialist
Application Support Specialist
Security Analyst
Network Support Specialist
Incident Manager
IT Operations Manager
4. Project Management
IT Project Manager
IT Project Support
IT Programme Manager
What is ITIL?
ITIL or Information Technology Infrastructure Library is a framework comprising best processes and practices for standardizing the overall lifecycle of IT services within a business. The aim is to enhance efficiency and accomplish the predictable delivery of services. The ITIL best practices and guidelines harmonize business needs with IT actions and expenses and modify them as the business changes direction. Further, the introduction of ITIL v4 is nudging businesses towards focusing on creating a more customer-oriented environment.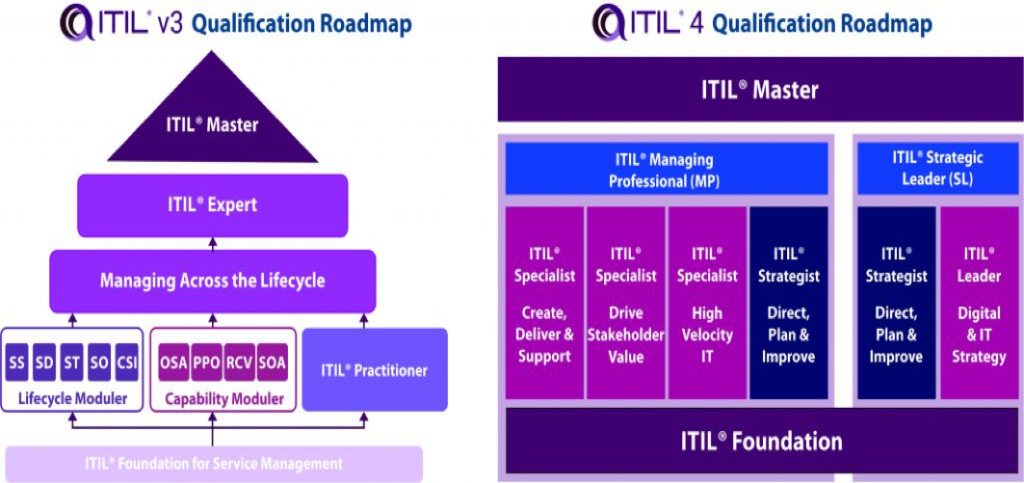 ITIL v3 emerged in 2007 and was updated in 2011 to include user feedback and resolve inconsistencies and errors. Subsequently, Axelos put forth ITIL's latest guidelines in 2017. ITIL v4 and its related modules have been released throughout 2019 and 2020. The adoption of the ITIL framework brings significant advantages to an organization:
Improved delivery and customer satisfaction
Collaboration between operation and IT
Better risk management
Creation of a more stable environment
ITIL v4 four qualification levels are as follows:
ITIL Foundation
ITIL Managing Professional
ITIL Strategic Leader
ITIL Master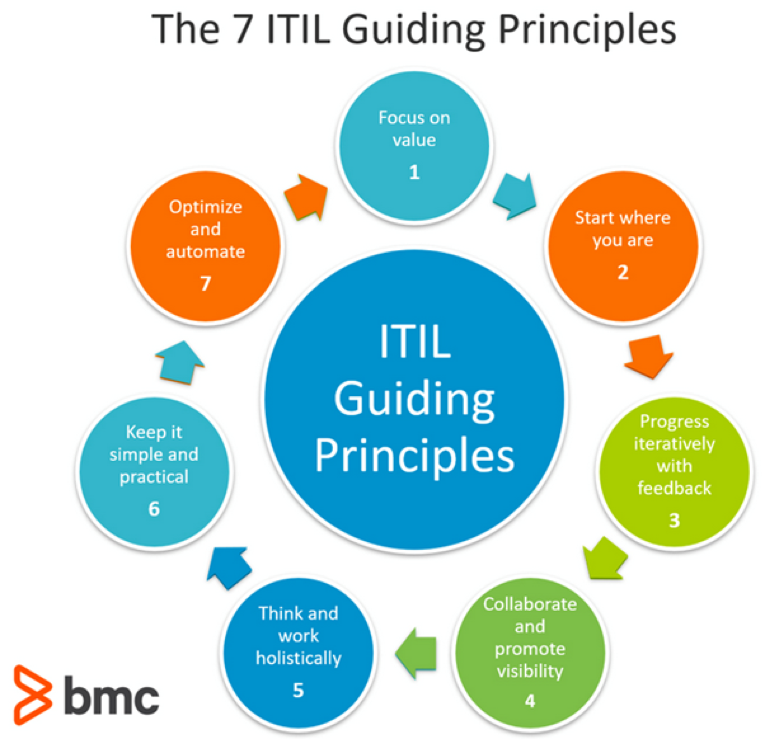 Difference Between ITIL v3 and v4
Since the initial release of ITIL in the 1980s, it has grown to be a benchmark among IT Service Management frameworks. ITIL has revolutionized the modern business strategy, making Information Technology a significant factor in deciding business success. Further, the latest trend of digital transformation has pushed the need for IT Service Management to respond to rapidly changing business models. Keeping these changes in mind, the latest version of ITIL, ITIL 4, came out in February 2019. The new release is an up-gradation of the popular ITIL v3, incorporating novel concepts to remodel the globally used framework.
So, let's get into an in-depth comparison of ITIL v3 and ITIL v4 and see how the new version reinforces the utility of the previous one.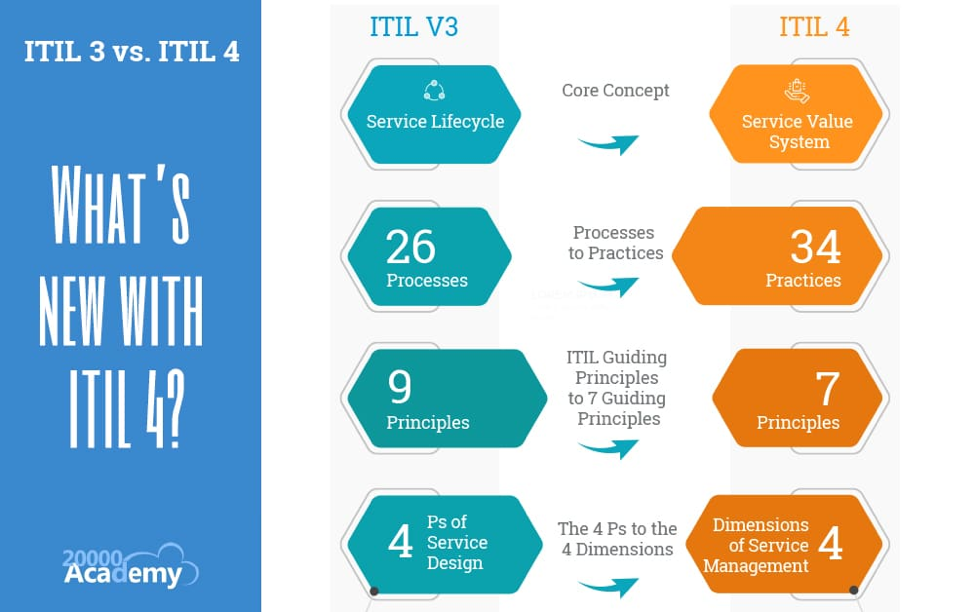 ITIL v3 was more service-oriented with a Service Lifecycle approach. There were five stages of the lifecycle, and each step was handled separately. Hence, it led to the creation of a siloed environment, increasing the cost and slowing down the pace of IT impact on the overall business.
ITIL 4 is built on the core concept of Service Value System (SVS). The SVS approach emphasizes how an organization's activities and components work together as a unit to allow value creation. Thus, ITIL v4 has done away with the silo culture for continuous improvement of services.
4Ps of ITIL v3 and 4 Dimensions of ITIL v4
ITIL v3 had put forward the 4 Ps of service management, namely – people, process, product, and partner.
On the other hand, ITIL v4 introduced the four dimensions for a holistic approach towards service management. The four dimensions include – Organization and People, Information and Technology, Partners and Suppliers, and Value Streams and Processes.
ITIL v3 Processes and ITIL v4 Practices
ITIL v3 came up with 26 processes and four functions grouped across the service lifecycle's five phases.
Very little could be achieved with ITIL v3's processes that were primarily focused on outputs. Hence, ITIL v4 shifted emphasis on capabilities and put forward 34 practices. These practices include technical Management Practices (3), Service Management Practices (17), and General Management Practices (14).
The confluence of IT strategy and business strategy gave rise to a service-based economy where ITIL v3 failed to keep up with strategic trends in business and IT, such as Agile, Lean, DevOps, Cloud Computing, Digital Transformation, and others.
In contrast, ITIL v4 focuses on flexibility to changes in business and technology. It achieves this by integrating concepts like DevOps, Agile, and Lean with conventional ITIL best practices to create a framework that can better adapt to the evolving industry trends.
Conclusion
ITIL v3 has not yet become an obsolete framework and is still in use. However, alignment with Agile and DevOps' latest practices requires the ITIL v4 framework to satisfy both the customer and the IT organization's requirements. The ITIL Foundation training is the key to efficient management and mitigation of risks while improving the end customer experience. Professionals with the ITIL 4 Foundation training certification are valuable assets in the IT Service Management field. By adopting the ITIL v4 framework, organizations will be better able to offer top-notch quality service delivery and ensure agile adaptations to dynamic business needs.