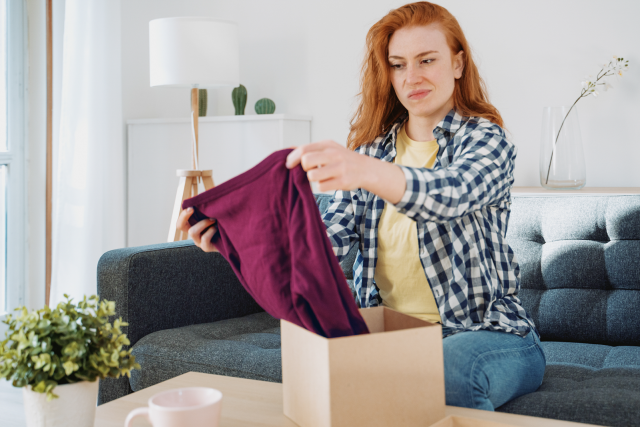 Although many fashion retailers believe that high returns are inevitable, as e-commerce catches up with physical stores, the current return rate is expected to become difficult to control. By considering customer experience, solving pain points, and using technology, brands can overcome sky-high returns in the ways that will be mentioned below.
Data from McKinsey reports that e-commerce fashion sales in 2020 increased by 11% due to COVID-19 forcing shoppers to go online. Shopify said that given the convenience of online shopping and a simple return process that allows consumers to buy, try on and return products for free, it is expected that the global fashion e-commerce market will continue to grow at an annual growth rate of 10.6%.
If the clothing item is not tried on before the purchase, this increase in sales will coincide with the surge in returns. Shopify's fashion industry report pointed out that although the average return rate for physical stores is between 8% and 10%, the average return rate for online shopping is 30%, and in some clothing markets it may be as high as 50%.
Besides, although many retailers believe that high returns are inevitable, current rates are unsustainable. Approximately one truckload of clothing is sent to the landfill every second, of which the returned inventory accounts for a large part — according to Optoro, only 50% of the returned goods re-enter the inventory. This not only causes companies to lose approximately US $550 a year but also costs our environment. Fashion is ranked as the second-largest source of pollution in the world after the oil industry.
What affects the ecommerce returns?
Both retailers and consumers are contributing to the unsustainable return rate of apparel e-commerce. From retailers failing to resolve fit issues to shoppers taking advantage of the easy return process, these are the main reasons for product returns:
Poor fitting
Apparel defects
Exaggerated expectations
Consumers hesitations
Relaxed return policy
Bracket purchasing
Practices for apparel returns management
Retailers should not be satisfied with the astronomical return rate that harms the bottom line and sustainability. By following the listed clothing return regulation practices, fashion brands can learn how to reduce clothing returns without compromising the customer experience.
Add more clarity to the product
A clear and detailed description of each product must be provided from high-quality images to clear product information, giving potential customers the exact expectations.
Retailers should resort to emerging fashion technologies, particularly AR-based solutions, such as 3DLOOK's YourFit, which provides clothing shoppers with realistic virtual fitting functions.
For a clearer reflection of the texture, color, and pattern of clothes, many online stores began to take enlarged photographs of the materials of the product, so that the buyers could imagine what exactly they would receive. Of course, this increases the cost of content production for brands but removes many customer hesitations and wrong expectations.
Use fitting technology
Virtually try-on solutions can assist customers in finding the correct fitting size both while shopping in-store or online and end the hard-to-control bracket shopping trend. 3DLOOK's YourFit is an optimal solution that can provide users with customized size recommendations within a few seconds.
The solution accurately shows the appearance of the item on the individual and the most suitable size, enabling the brand to provide consumers with an immersive try-on experience.
Strengthen customer support
While a positive customer return process can encourage customers to come back, a negative experience can discourage customers. Without the help of a shop assistant, brands must implement easy-to-access touch points so that e-commerce customers can reach representatives. According to ReturnMagic data, 58% of shoppers said that excessive telephone and e-mail communication will cause friction, and real-time chat can answer customers' concerns in a more timely manner.
Establish trust and loyalty with your client
Brands must create a customer experience that benefits customers. For example, a shorter return window may result in a higher return rate because customers make decisions in a hurry. According to SalesSupply, providing a longer return window not only improves customer satisfaction but also reduces returns in half.
Retailers should continue to communicate with customers, collect reviews and feedback to improve the shopping experience. Providing a little reward, whether it's a small discount or a thank you gift, can help increase customer loyalty.
Contributing to making the clothes return rate balanced
It is fair enough to say that returns destroy online business profitability. If the customers return a purchase, they may have many reasons for this, and some of them are influenced by the retailers themselves, which inadvertently ignore some important points in the interaction with the customer.
By following the steps above, the fashion industry can significantly reduce its destructive rate of return. Knowing how to reduce returns in ecommerce, retailers are bound to succeed in reducing the returns of their products and therefore balancing their profitability.
Considering the customer experience, solving problems, and using fashion technologies to improve the shopping process for consumers — all this helps fashion businesses achieve significant changes in return rates.