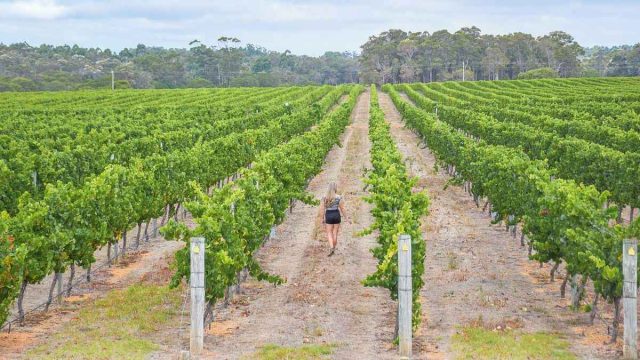 The Margaret River area is located 270 kilometres south of Perth and includes the picturesque seaside towns of Augusta, Yallingup, Dunsborough, and Busselton, the eccentric cow town of Cowaramup, and the dynamic Margaret River wine tour. Along with handmade culinary treats, native craft brewers, and fantastic wines, there is an ever-changing landscape of exceptional beauty. Margaret River is known for its ancient caverns, majestic karri trees, rich agriculture, magnificent shoreline, and beautiful white beaches.
Therefore, if you like wine, a vacation to Western Australia will be incomplete without a Margaret River wine tour in the Margaret River wine area. The Margaret River area encompasses 130 kilometres and is home to several of Australia's most popular Margaret River wineries. So read this post to enlighten you on selecting the best Margaret River wine tour for your preferences and budget.
Margaret River Tour Overview
Take one of the fantastic Margaret River vineyard tours to make the most of your visit to Margaret River and experience the top Margaret River wineries. There are several wine excursions available, departing from various areas. For those on a tight schedule, there are a variety of multi-day and day wine trips from Perth. The Margaret River wine tour is also available, with departures from the beautiful coastal town of Busselton and the dynamic town of Margaret River. Meanwhile, independent travellers may choose from a variety of excursions departing directly from the cellar doors of several of Margaret River's greatest vineyards.
How Long Do You Want to Spend On Margaret River Wine Tours?
On the Margaret River wine tour, several packages are available for everyone, whether you want a thrilling outdoor adventure, a romantic couple's retreat, or a colourful girl's weekend. The five most popular tours are listed here, so you may choose which one appeals to you.
Half-Day Margaret River Tour
When you're looking for the ultimate southern vacation but do not wish to exceed the budget, a couple's or girl's trip where you could enjoy chocolate, cheese, and wine with somebody else as the designated driver could be the best option. The half-day Margaret River tour is an economical half-day wine and food tour that allows you to sample local products and top wines from all throughout the Margaret River area.
Furthermore, the half-day Margaret River trips are great for those of you who do not have much time but still wish to visit the region. In addition, unlike other wine excursions, this one focuses on the region's most wonderful local dishes.
Full Day Margaret River Tour
On a full day Margaret River river tour, discover the world-famous Margaret River wine area. Go to several of the top vineyards in the region, sip excellent wines, and learn about the region's culture and history. You may also have a great meal while admiring the area's breathtaking beauty. Learn about the numerous varietals renowned in the area and get an insider's peek at the winemaking procedure. With trained personnel leading you the whole way in the luxury of a private car, this will be a day you will remember for the rest of your life.
Premium Full Day Margaret River Wine Tour
A premium wine tour of Margaret River, Australia's top wine area, is available. Taste several of the best wines from globally renowned vineyards while learning about the region's culture and history. Visit nearby wineries, soak in the scenery, and have a fantastic meal. Enjoy and relax on a once-in-a-lifetime adventure with a personal guide, all from the luxury of a private automobile.
Moreover, the premium full day Margaret River tour is known for its leisurely, premium Margaret River excursions, which provide gastronomic experiences at moderate pricing. This trip is the ultimate in luxury, taking you on a journey to explore cuisine and wine created by local craftsmen across this beautiful area.
Discover and Indulge Margaret River Day Tour
When you prefer a little adventure as well as a great glass of wine, this trip provides the ideal rural vacation for you. The Indulge and Discover wine trip covers all the basics, with stops to discover and marvel at stunning coastal vistas and amazing caverns, all while sipping excellent wines and tasting local gourmet cuisine. Be taken on a journey of steadfast dedication to producing site-expressive wines.
Furthermore, see how the land's guardians have used organic farming practises to achieve ideal conditions for grape quality and soil health. The winemaking team creates wines with low-impact procedures and intense attention to detail in order to produce high-quality wine that everyone can enjoy.
2 Day Margaret River Wine Experience from Perth
When you're in Perth and have several days to spare, this two-day Margaret River wine experience from Perth would be a decent option. This trip enables you to enjoy your time and go to several of Margaret River's greatest vineyards. Enjoy a cider and beer sampling with a delicious platter lunch. Margaret River's chosen vineyards provide a sampling of exceptional vintages. Enjoy the natural marvels of Boranup Forest and Mammoth Cave, the historic Cape Leeuwin Lighthouse, and the Busselton Jetty attractions.
In Summary
A vineyard tour is an excellent opportunity to learn about the winemaking process and what makes Margaret River special. Because wine is so important to the area's economy and history, doing a wine tour is nearly obligatory while you are here. Most significantly, it is an excellent chance to sample a variety of wines. Your tasting prices will be covered as part of your trip, and you will go to several of the greatest vineyards in the area. Overall, joining a Margaret River wine tour is much superior to doing it alone since you will enjoy most of the experience.