Perhaps the most successful tech introduced with last Fall's iOS 8 release was Metal, a graphics abstraction layer that makes developing and delivering performance faster and with fewer resources. Metal for Mac is arriving with the release of OS X El Capitan, the successor to Yosemite.
First off, what's the significance of El Capitan? That's California location within Yosemite, which is indicative that Apple is focussing this OS X release on polishing the desktop operating system.
That said, Metal for Mac the desktop is a new feature on the desktop. However, as far as developers are concerned, their investments in bring Metal to their iPhone, iPad and iPod touch will pay immediate dividends in bringing Metal to their Mac apps and games.
Metal for iOS
Built for developers who create highly immersive console games, Metal is a new technology that allows them to squeeze maximum performance from the A7 and A8 chips. It's optimized to allow the CPU and GPU to work together to achieve optimal performance. It's designed for multithreading, and there are great tools for putting it all together in Xcode.
See also: Apple Developer Program Singularity: One and Done
Metal for Mac: Adobe Creative Cloud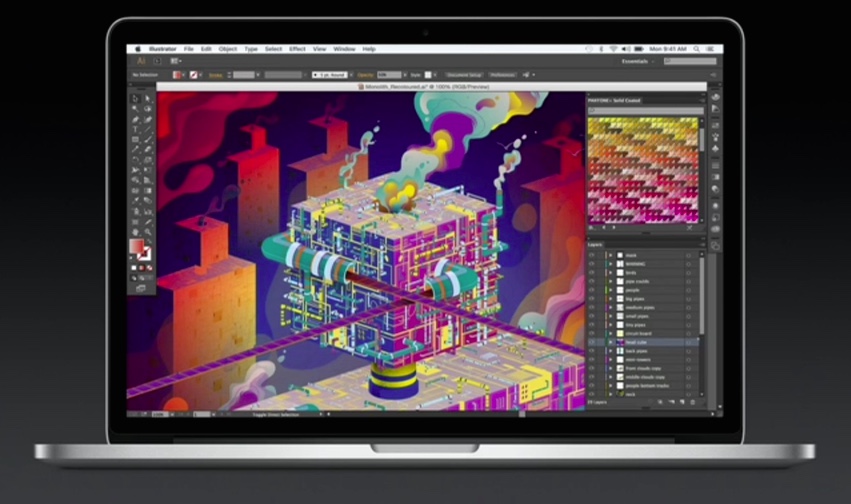 "We are committed to adopting Metal on our OS X apps," says David Wadhwani, VP & GM, digital media, Adobe. "With performance increases up to 8X, we are excited about what Metal can do for our Creative Cloud users."
Adobe has said it will adapt all of its Creative Cloud Suite apps, including Illustrator (shown above).
Metal for Mac: Games

The Metal for Mac by Epic Games, which demo'd Fort Night (image above). As with all WWDC game demos, Fort Night looks awesome.
For developers, where the rubber meets the road is an up to 70 percent increase in performance when compared to OpenCL. And, again, as mentioned above, developers with Metal for iOS experience will be able to immediately leverage that in bringing their apps and games to Metal on the desktop.
I'm looking forward to Metal on the desktop and, as Apple is shipping the developer beta of OS X El Capitan today, look for more on OS X 10.11 and Metal right away…
What's your take?