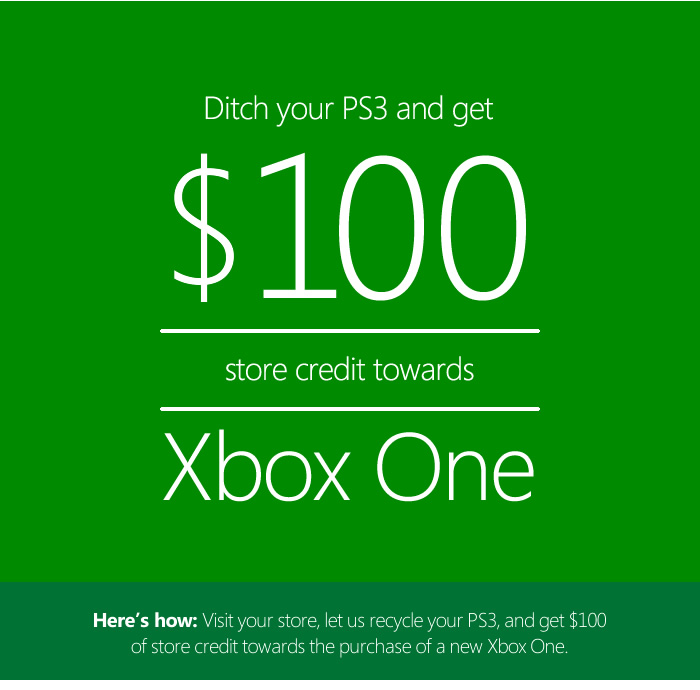 The battle for console supremacy just heated up big time! In the ongoing rivalry between Microsoft and Sony for their next-generation gaming consoles to come out on top, Microsoft seem to be getting desperate.
In a new deal, Microsoft are offering $100 in store credit at the Microsoft Store when you trade in your old PS3 to put towards the purchase of a new Xbox One.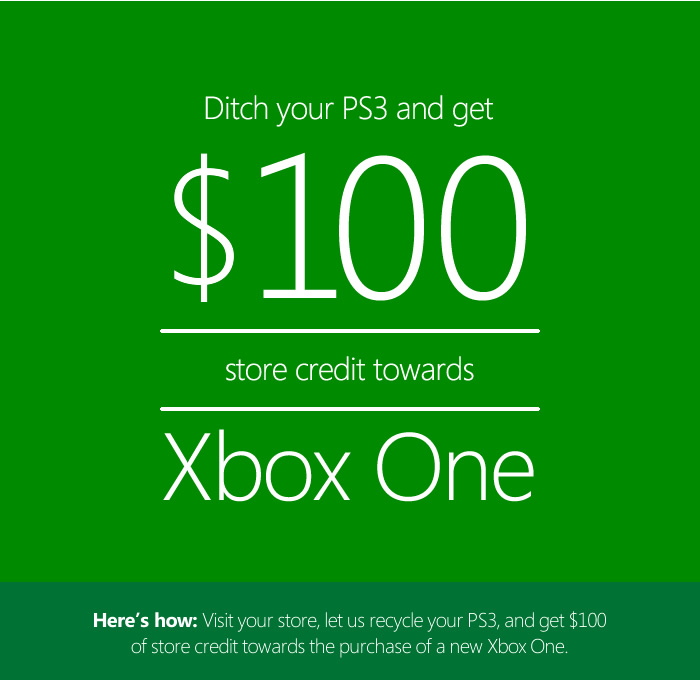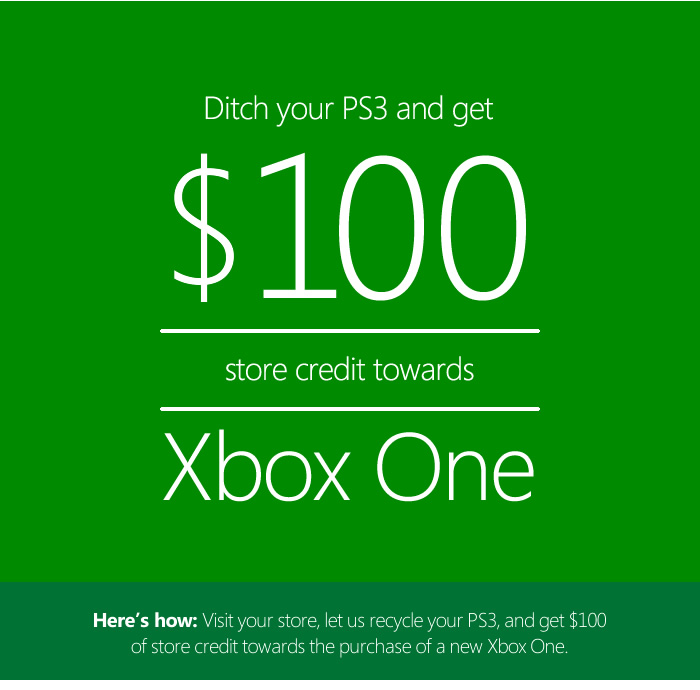 Microsoft low blow?
This is pretty significant, given the Xbox One is around $100 more expensive (depending on what country you"re in) and the price difference has turned out to be the deciding factor in the purchasing process.
Trade up and get your hands on the new Xbox One
Welcome to a new generation of games and entertainment. Where games push the boundaries of realism. And television obeys your every command. Where listening to music while playing a game is a snap. And you can jump from TV to movies to music to a game in an instant. Where your experience is custom tailored to you. And the entertainment you love is all in one place. Welcome to the all-in-one, Xbox One.
The small print states that the offer is valid from January 23, 2014 until March 2, 2014, or while supplies last. The trade-in offer is available in select US stores including Puerto Rico and Canada, but is not valid online.
Obviously there"s some more Terms and Conditions, but they seem pretty straightforward if you"re online casino ready to jump ship and go for an Xbox One from a PS3.
To be eligible for trade in, product must power on and be in fully functional, working condition without broken/missing components, cracked display/housing or liquid damage, cannot be password protected, and include original chargers/accessories. To receive maximum trade in value, you must purchase an Xbox One at the same time. Any appraised value will be determined at trade in and provided as store credit, subject to Microsoft's discretion and approval.
There is also a limit of one offer per customer.
It seems Microsoft are responding to the Playstation 4 outselling the Xbox One in 2013, and are hoping that this offer will help them shift more units and convert more gamers to their platform.
Thoughts?