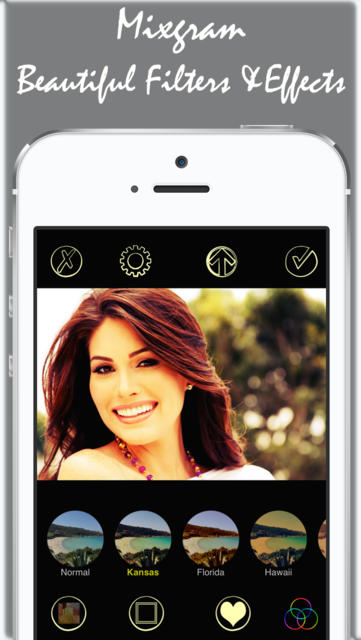 [app url="https://itunes.apple.com//app/mixgram-photo-editor-collage/id785638228?l=fr&ls=1&mt=8″]
Developed by LYAM BROTHERS, Mixgram is a great photo manipulation application with a diverse feature set and a solid interface.
At its core, Mixgram is a photo editing tool with a wide range of features, especially given that it's free. The app allows you to take photos, either with the phone's camera or from the camera roll, and creatively crop them or apply various text, filters and frames. The amount of different options for these filters and frames is on par with most other photo editing apps on the store, so don't expect anything spectacular here.
Where Mixgram differentiates itself is with its collage and upload features. Mixgram enables the creation of collages based on a wide number of templates, giving you slots to insert your own photos edited directly through the app. The interface is slick, and the collages are aesthetically pleasing, so this is definitely a well executed feature.
Perhaps even more important is Mixgram's aforementioned upload features. Unlike most photo editing apps, Mixgram doesn't limit you to saving your customized photos in the camera roll for later use, but instead allows uploading the photos directly through the app to Facebook, Twitter and Instagram. This means getting your photos from Mixgram to your social networking profiles is fast and easy, arguably the best feature of this app.
Mixgram isn't perfect however, and suffers from a flaw found in many free apps: an annoying monetization scheme. As expected, many of the photo editing options such as filters are blocked behind in-app purchases. However, these options appear alongside the free options in the editing tools, often leading one to accidentally click on them and open up a fullscreen purchase prompt.This can get annoying quickly.
If you can get over this annoyance, Mixgram's broad suite of tools and convenient upload features leave it among the better photo editing tools available on iOS.
Mixgram requires iOS 6.0 or later. Compatible with iPhone, iPad, and iPod touch. This app is optimized for iPhone 5. Follow Tapscape for the latest iPhone app reviews.