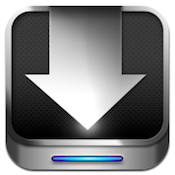 Price: $3.99 Score: 9/10 Category: Utilities
My Downloader Profor iPhone and iPad, developed by YUYAO Mobile Software, Inc, advertises itself as "your personal download master." Does it live up to the hype?
In a word, yes. YUYAO Mobile Software, Inc. has a long history of making cool, useful, and thoughtfully constructed apps. Regular readers may recognize the name from our recent review of their app PDF Reader Pro, which we gave a 9/10.
My Downloader Pro continues YUYAO Mobile Software's tradition of quality apps. Our own Shaun Campbell previously reviewed an older version of My Downloader Pro back in January, and gave it a 9/10.
In his review, Shaun wrote: "The straightforward user interface makes accessing each of My Downloader Pro's functions dead simple. A single navigation bar means that it only takes one tap to swap windows and move between your sharing options."
While the price of My Downloader Pro has gone up since the time of that review, the quality of the app has also improved. The most recent update was on October 4th. This version (Version 1.2.2) lets you send videos to your Camera Roll, as well as letting you play songs and videos in folders as playlists.
If you're looking for an app that lets you download files, organize them neatly, and transfer them without hassles, My Downloader Pro is definitely up to the task. Smartly designed and easy to use, My Downloader Pro features tabbed browsing, a built-in PDF reader, and a robust download tracking feature, this handy app is useful, even if you don't consider yourself a hardcore downloader.
From music to work files to videos, My Downloader Pro is the perfect iPhone app to consolidate your downloads and minimize your file sharing headaches. It plays nice with such a huge array of file types that you can't afford not to try My Downloader Pro.
My Downloader Prois compatible with iPhone, iPod touch, and iPad. Requires iOS 4.3 or later. A small expedite fee was paid by the developer to speed up the publication of this iPhone app review.